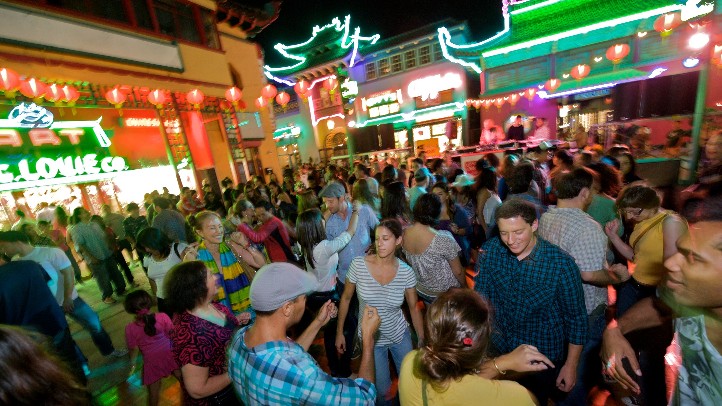 Late summer comes calling when Chinatown Summer Nights make their debut. It is a bit bittersweet, in a way; fall is on approach and these longer days will wind down.
But the trio of parties, set in Chinatown's historic core, are so lively and spirited that that bittersweetness has a way of dissipating pretty dang quick. Once again, KCRW DJs and a bevy of food trucks will make for the Broadway-adjacent plaza over a trio of Saturday nights, beginning on Saturday, July 28.
Once again, the events are free.
Once again, the nights extend into August: Aug. 11 and Aug. 25.
Once again, bands'll complement the DJs in providing musicale enjoyment. Gustavo Galindo and The Singles are two of the acts for 2012.
And, once again, there will be a lot of interesting events spinning off of the joyful alfresco dance party. This year brings the Punk Rock Pillow Fight, which will happen during all three of the Chinatown Summer Nights. It's an "8-person amateur pillow fight." Is there more that needs to be said? Merry mischief and soft cushions are an age-old pairing.
And, finally, you'll want to visit the restaurants and shops of Chinatown, in addition to the food trucks and vendors out around the historic area. Since each night stretches from 5 p.m. to midnight, you'll have loads of lovely time.
Truly, it is one of the best free summer parties in the city. Pack some extra bucks for eats, ride your bike if you can (there are racks), and duck should a swinging pillow come your way.
Follow NBCLA for the latest LA news, events and entertainment: iPhone/iPad App | Facebook; | Twitter; | Google+; | Instagram; | RSS; | Text Alerts | Email Alerts
Copyright FREEL - NBC Local Media