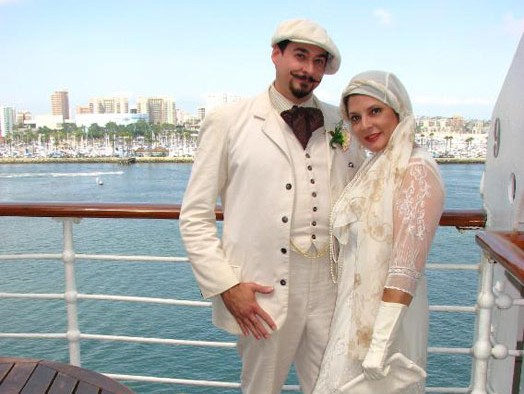 Before all those ghoulies creep into the Queen Mary courtesy of Shipwreck -- is it almost time? -- yes, it is -- our landmark, permanently docked ocean liner will play host to ladies and gents turned out in suit-wearing, cloche-topped, cocktail-swilling finery.
That's because every Labor Day Weekend for the last half decade the Queen Mary has welcomed the grand Art Deco Festival. And while that sounds like it might be a lot of standing around and peering closely at period architectural swoops and flourishes, the weekend is all about having a fine time. Think Nick & Nora. Think vintage cocktails and flirting and chitchat.
Think the Friday night pajama party, when everyone jumps into their shiny, satiny nightwear and socializes. And think of Dean Mora & His Orchestra, those local faves who will be taking the stage on Saturday night to create some mood music. There will also be art and cars on display, talks, a movie.
Don't get us wrong. There will be swooning over Art Deco details. But this is a party not so much about locked-in-time things, but rather people, people today, and those people are prepared to live it up, whoopdidoo style. Cheers to that.
Art Deco Festival, September 4th-7th, Queen Mary, Long Beach
Copyright FREEL - NBC Local Media