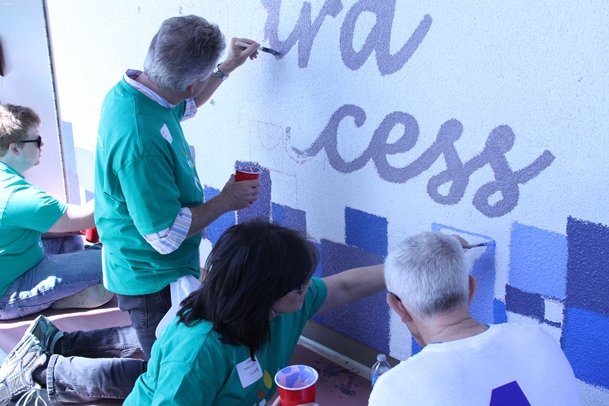 In support of Comcast Cares Day, one of the country's largest days of corporate volunteerism, more than 400 Comcast and NBCUniversal volunteers came together to beautify Barack Obama Global Preparatory Academy as part of Comcast Cares Day and Green is Universal's Earth Week on Saturday, April 27.
More than 70,000 Comcast and NBCUniversal employees and friends participated in hundreds of projects across the country. Locally, NBCUniversal, together with City Year Los Angeles and American Heart Association Teaching Gardens, organized a half-day event, in which volunteers painted inspirational murals to transform the school into an exciting place for students to learn and encourage them to think about the possibilities for their future.
Steve Carlston, president and general manager of NBC4 Southern, and Bob Greenblatt, chairman of NBC Entertainment, were among the executives who participated at the event, along with NBC4 news anchors, Colleen Williams, Chuck Henry, Fritz Coleman, Michael Brownlee, Alycia Lane, Whit Johnson, Robert Kovacik and Ten Chen, as well as several other NBC4 news talent.
Click here to learn more about Comcast Cares Day.