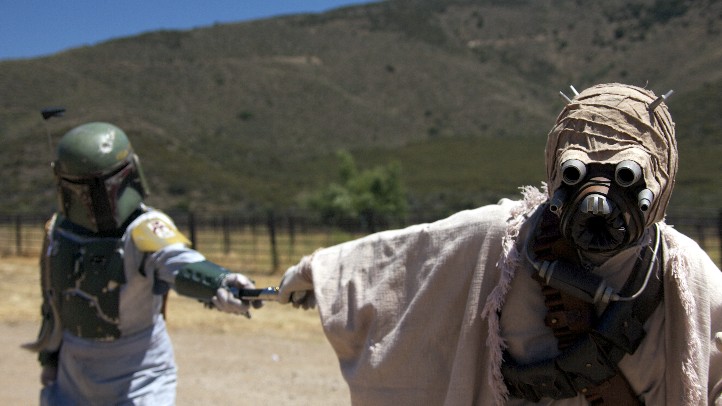 If anyone were to claim that Comic-Con is merely about the four days that Comic-Con actually happens, we'd chuckle and shake our heads.
If anyone were to say that fanboys and fangirls were solely interested in their obsessions and not in helping others, we'd tsk and cast an eye.
And if anyone says that a light saber doesn't resemble a relay race baton, we'd advise them to look again. Because a light saber will indeed become a baton during Course of the Force, a five-day relay starting on Saturday, July 7 in Santa Monica and ending on Wednesday, July 11 in San Diego (yep, Comic-Con starts the next day in San Diego, so that is no mere coincidence).
So who is in the good-hearted relay? "Star Wars" fans, all in their Boba Fett and Princess Leia best, lending a hand to raise money for the Make-A-Wish Foundation. Lucasfilm Ltd., Octagon, and Nerdist Industries are three big players behind the baton. Or, er, light saber.
Like learning to pilot the Millennium Falcon, there are several things to know. Participants only have to run, or, er, if they are in full slithery alien costume, slink, perhaps, for a quarter mile to make their light saber hand-off.
Nerdist honcho Chris Hardwick and guests'll be in a lead vehicle each day, reporting back.
And will there be parties along the way, and confabs and get-togethers where people will drink blue milk and other beverages that might be served in the Mos Eisley Catina? These are Comic-Con and Star Wars people we're talking about. YES. All capital letters. Fanboys and fangirls like to get their socializing on at the end of the day. There will be celebrations.
For more on how to donate or where to see the costumed, light-saber'd running action, follow along at Course of the Force.
Follow NBCLA for the latest LA news, events and entertainment: iPhone/iPad App | Facebook; | Twitter; | Google+; | Instagram; | RSS; | Text Alerts | Email Alerts
Copyright FREEL - NBC Local Media