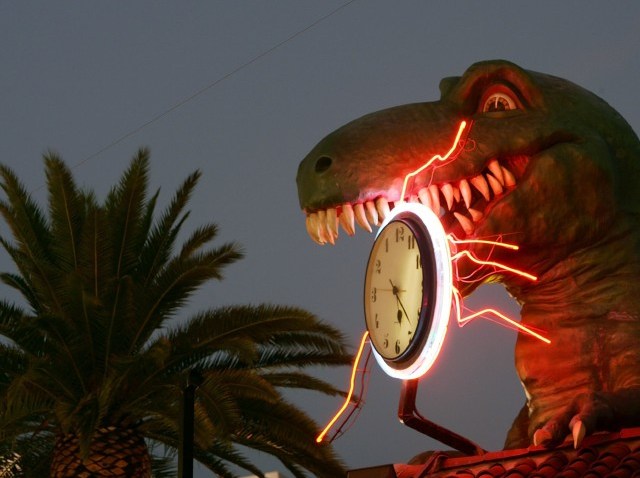 For further proof that movies and this town have had a long, long relationship, look no further than 6712 Hollywood Boulevard. The great, column-laden building at that address, with its huge courtyard lined in hieroglyphics, turns 87 years old on Sunday, October 18th.
Happiest of anniversaries, Egyptian Theatre.
To mark the day Sid Grauman and his famous pals first called the theater open, American Cinematheque is doing it up. "Up" being a scavenger hunt American Cinematheque is co-heading with Wise Guy Events on Saturday, October 17th. It starts at 3:45, it costs $32, and there will be a lot of legging it to Tinseltown's hair-raisingest sites.
You should probably have a handle on Hollywood horror flicks before joining in. Know your Michaels from your Jasons.
Afterwards, the theater is showing "The Lost Boys" and "The Goonies," which game participants are invited to stay for. Note that you must email and get info ahead of time for this lively afternoon to-do. Just showing at the theater is not recommended, at least if you want to be in the scavenger hunt.
Both movies are being shown for anyone who wants to see 'em, by the way, for the normal Cinematheque prices. If you want to skip the scavenging and just catch the flicks.
Also going on this weekend at The Egyptian: lots behind-the-scenes tours, along with screenings of "Forever Hollywood," a doc all about our silverscreen dreams. The theater tours start at 10:30AM on both Saturday, October 17th and Sunday, October 18th; the film will follow. Tour + film is ten bucks.
There are other film-fun to-dos surrounding the big day; check 'em out here.
Copyright FREEL - NBC Local Media