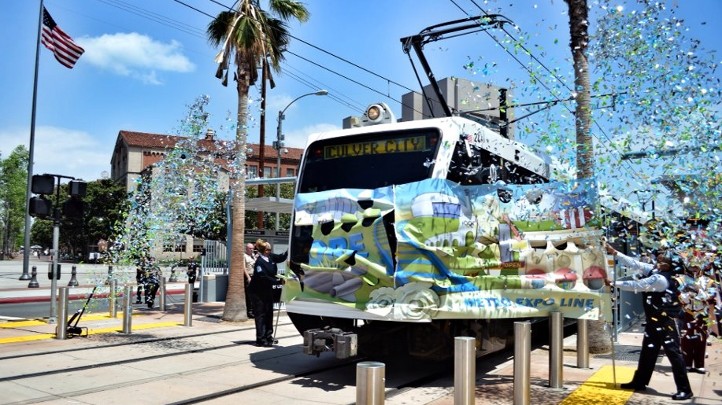 We like when a good thing coincides with another good thing. And it turns out that is exactly what will be happening in Culver City on Wednesday, June 20.
That's the day when the Culver City Metro Expo Line station will have its grand opening. The bonus? Rides are free for people boarding at Culver City from noon to 9 p.m. ("You'll also receive a voucher for your return trip that day," says the Metro site.)
Farmdale station will also open on June 20 and have the same deal: Board free from Farmdale from noon to 9 p.m. (Just to be extra safe, read all the details about your gratis ride.)
Now, about the second good thing we foreshadowed at the start of this: Downtown Culver City is throwing its annual Third Wednesday party on that date; the June 20 party has a Spiked Lemonade theme.
Several restaurants will be whipping up their versions of grown-up lemonade, with non-alcohol versions for the under-21s and anyone else who'd like to go spirits-free. It's all in good fun and a contest to find the best spiked lemonade in the restaurant-laden area.
A downtown Culver City rep points out that it is a perfect dovetailing of events. Can't find a designated driver after your spirited beverage? Catch that free Metro Expo Line from Culver City.
If you want to skip the adult lemonades and just walk Culver's galleries on Wednesday evening, do. If you can't make the Culver City bash but want to ride Expo Line for free, do. Note once again that the free rides are only from Culver City and Farmdale stations on that day, so be sure to have payment or a pass at the other stations.
Follow NBCLA for the latest LA news, events and entertainment: iPhone/iPad App | Facebook; | Twitter; | Google+; | Instagram; | RSS; | Text Alerts | Email Alerts
Copyright FREEL - NBC Local Media