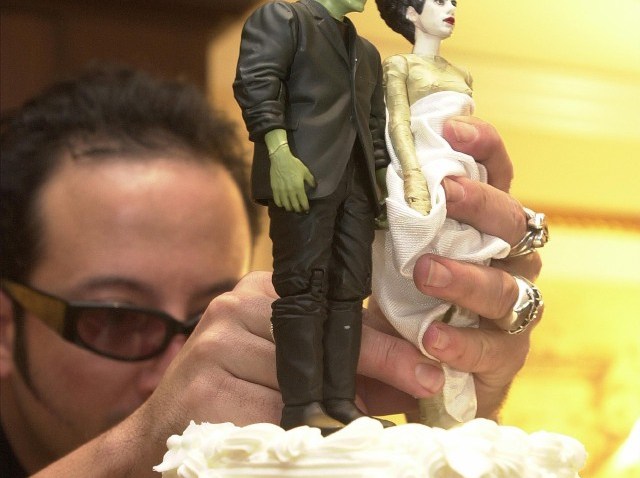 The groom's got fangs. The bride's sporting red eyes, and not from crying, either. And the cousins in the back row? Baying like werewolves during the harvest moon.
Some wags might say this is *any* wedding, but we're talking specifically here about the Halloween wedding, which we have been seeing more and more of the last few years. Television, online, stores. The Bride of Frankenstein is in *total* luck, as far as looking for vendors goes.
In fact, it seems that just about every plan-your-big-day program TiVo is delivering to us as of late is all about this growing (and growling) industry. "Whose Wedding Is It Anyway?" from The Style Network just detailed a bride who walked the aisle as an angel, complete with wings, and a groom dressed as a devil.
Then there are the traditional bride-and-groom cake toppers at Etsy. Zombie lady and man are represented. And. So. Many. Vampire. Couples.
It's like vampires have become synonymous with romance lately. Wait.
And one of our favorite blogs, Offbeat Bride, offers tons of terrifying ideas for a web-filled wedding. This haunted house affair makes us shiver, even as we reach for our hankie.
We support you, we do, Halloween brides and grooms. You've got cheek. You've got zow. Now what we want to *really* see is a couple throw a wicked wedding in spring, among the blooming crocuses and singing robins. Not just on October 31st. A monster mash in March.
That's got some bite.
Copyright FREEL - NBC Local Media