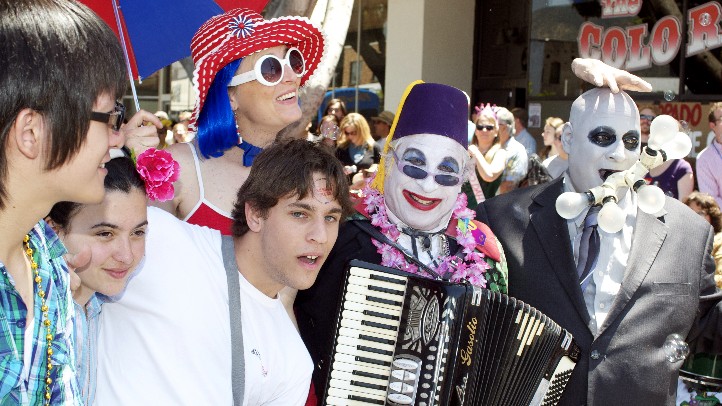 Of all the spectator events around Southern California, the Doo Dah Parade is probably the one that inspires the most "remember when?"-type moments between friends.
If you've watched it, you know. You know you and your pals have a half dozen "remember whens" you trot out whenever the parade rolls around again. "Remember when that guy shot a baked potato from a cannon?" "Remember when that space alien disco-danced his way through the crowd?" "Remember the weird rabbit costume and how the eyes followed you?" "Remember the guys who napped in the middle of the road?"
Seriously, we have a dozen more.
But we'll save them so you have time to glitter-up and ready-down for the Saturday, April 28 parade. It's free, as always, it starts at 11 a.m., maybe, probably, and it will return to Colorado Boulevard in East Pasadena.
The same zany cast of characters'll march, of course, but there's the sparkly new addition of Queen Intergarlictica. Her name is so wonderful and multi-faceted we find ourselves spelling it in new and creative ways each time we type it.
As always, people will pretty much do what they like during the parade, wear what they like, arrive when they like, and interact with the crowd how they like. Down with that? Thumbs up.
And the start time? It really is 11, but, oh, you know. Lining up all of those princesses and people on stilts and the guys that drive the motorized couch can be a challenge. So be prepared to chill and do some awesome people-watching.
Follow NBCLA for the latest LA news, events and entertainment: iPhone/iPad App | Facebook; | Twitter; | Google+; | Instagram; | RSS; | Text Alerts | Email Alerts
Copyright FREEL - NBC Local Media