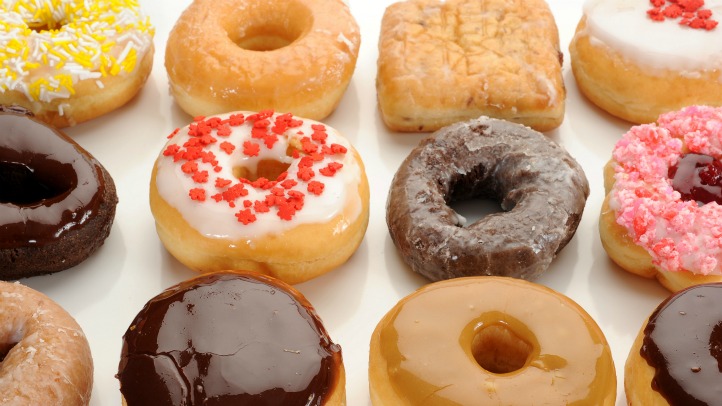 Christian Marclay's "The Clock" is, without argument, a film built on big ideas and vast stores of whimsy.
The movie is 24 hours long and features thousands of clips of -- wait for it -- clocks and watches and timepieces, all of which happen to show the actual time the viewer is occupying.
Big? Deep? Whimsical? You're with us on this? Good.
The Los Angeles County Museum of Art has shown the film a few times and it is set to screen it again starting at noon on Saturday, March 24 (so, spoiler alert: "The Clock" will wrap up at noon on Sunday, March 25).
And here's the tasty part of this go-around: ForYourArt, which is a "bi-coastal arts organization," will be serving up a full day of free donuts from around Los Angeles during the screening. The donut-goodness will be going down across from LACMA, where ForYourArt is setting up shop.
The donuts are free, says ArtInfo, and they've have been curated to tie-in with the film. And yep, Stan's Donuts is represented. Meaning all is good and right in the world.
And speaking of free? It's a free screening, as with previous showings. But note that it is first-come, first-served. When we attended time before last there were plenty of seats in the huge Bing Theatre, but we suspect that midnight, which is said to be the film's sweet spot, gets rather packed. It probably all depends on the time of day you arrive.
So. Whimsy meets whimsy. We like when a major art happening is met with a major food happening. And if you don't think eating local free donuts in the middle of the night is major, well, please talk to a friend who can set your opinion straight on the matter. Thank you.
Follow NBCLA for the latest LA news, events and entertainment: Twitter: @NBCLA // Facebook: NBCLA
Copyright FREEL - NBC Local Media