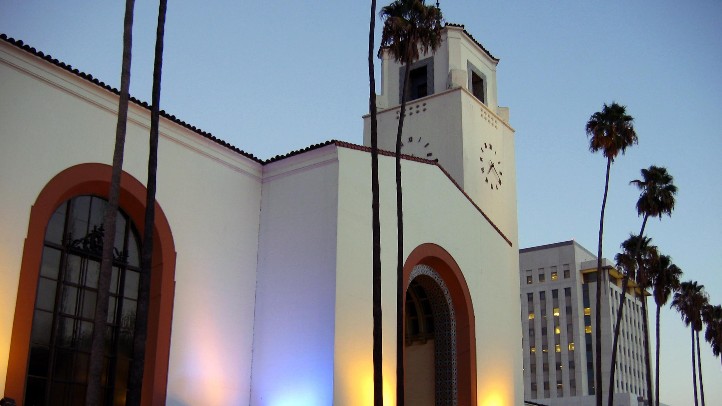 The get-to-know-your-city tour? The one where you poke about buildings and stare up at cornices and talk about long-ago visionaries who were kind enough to help your town find its particular flavor? Those tend to be the province of the morning, right? When people are bushy-eyed and bright-tailed and ready to absorb knowledge while slathered in sunscreen.
So when an interesting and fact-filled urban tour saunters our way, and it doesn't take place at 10 a.m., we unhand our sunscreen and nose around to see what it is different and if we like different. We often do, as you likely do as well. And filling in the different category are the Downtown at Sunset walks from the LA Conservancy.
For one, they are at sunset. For two, they're in the middle of the week, on Wednesday evenings. No Saturday mornings here. Which means if you work downtown, even better. You're already there, and you should probably get better acquainted with your immediate environs anyway.
The summertime staple kicks off on Wednesday, July 20 with a look at Art Deco. City Hall, Bunker Hill, and Union Station will be visited over future Wednesdays. (There's something so hopeful about the words "future Wednesdays" together.)
A general ticket is ten bucks, and you'll walk about a mile-ish (you know "ish" can go either way, yes? Longer or shorter? All righty.) Bet you'll come away with a new tidbit or two, even if you consider yourself the Doyen of Downtown. (There's something so stylish about the words "Doyen of Downtown" together.)
Copyright FREEL - NBC Local Media