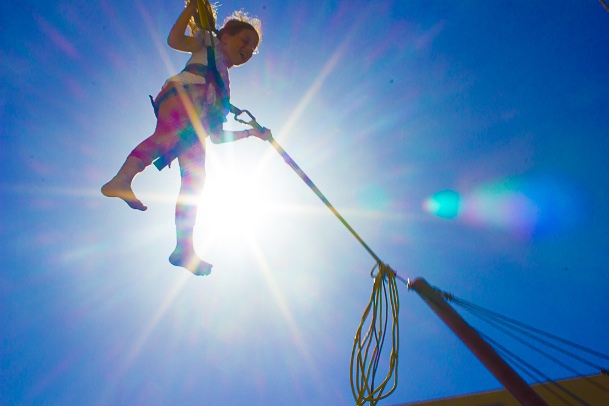 On Sunday, October 20, 2013, more than 500 people will celebrate the 20th Anniversary of Children's Arts Festival: Kids Rock!, a fundraiser for local nonprofit Westside Children's Center. The festivities will take place from 2 - 6 p.m. at Sony Studios in Culver City.
This fun-filled family event will feature more than 40 action-packed activities for kids of all ages, including a rock wall, bounce house, bungee jump, arts & crafts booths, game booths, and The Game Truck. Sponsors include Color Me Mine, Make Meaning, The Home Depot, Cooking Italiano for Kids, Music Stars & Masters, and Funky Divas and Dudes.
Enjoy both kid- and adult-friendly fare, including The Kogi BBQ Truck, The Sushi Pirate Truck, Carl's Jr. Star Diner, Georgetown Cupcakes, The Peddler's Creamery, Maya Brigadeiro Brazilian Sweets, Bon Puf, and Sweet! LA.
Guest will have a chance to cast their votes for local middle and high school bands competing in a Battle of the Bands. The winners get the ultimate prize: a one-on-one consultation with the band members and manager from the Grammy-winning band Weezer.
Tickets for the fundraiser are $100 for adults and $50 for children 3-17 (under 3 come for free).
All funds support Westside Children's Center's comprehensive programs for at-risk children. WCC offers a wide range of crucial supports involving early education for young children from very-low-income families and family strengthening and foster/adoption services for those in need due to family crisis. For over 25 years, WCC has ensured that tens of thousands of local children have had the opportunity to succeed and thrive. For more information please visit http://westsidechildren.org/events or call (310) 846-4100 ext 6167.