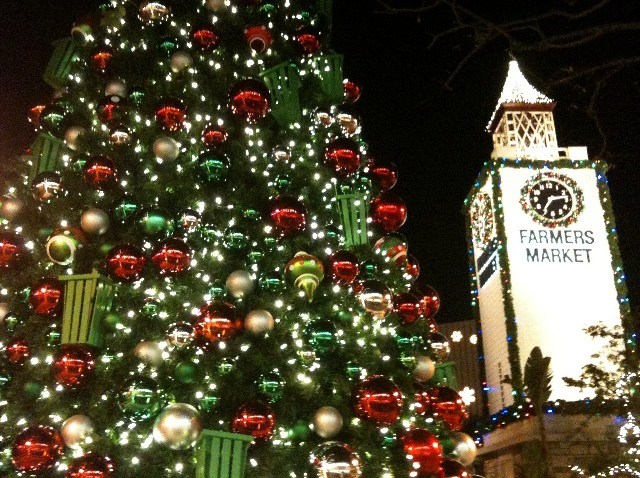 The little green baskets on the big tree get us.
If you've been to the Original Farmers Market any time since Thanksgiving, you've likely seen the famous marketplace's tree, which happens to be covered with the well-known icon of the marketplace. We're talking about the standee, walk-around, wooden green baskets.
Of course, the Christmas tree doesn't have the *real* baskets all over it -- they're way too large -- but rather sweet miniatures.
Love. We also love that the pre-Christmas week festivities get ho-ho-ho-ing at the Market on Saturday, Dec. 18. There will be kidly activities, like the making of reindeer puppets, there will be grown-up activities, like a party at EB's bar, and there will be plenty of to-dos that everyone can enjoy.
Caroling will pretty much be on all week, through Thursday, Dec. 23, at various times around Farmers Market. But we're sweetest on the mariachis who arrive to play for the Market on Christmas Eve. Something about the festive brassy sound bouncing around all those stalls is an instant-get-in-the-yuletide-mood-maker.
If you're looking for that. And we think you are. But start with a look at those baskets on the tree near Kip's Toyland. Cheerful, very, like Farmers Market itself.
Copyright FREEL - NBC Local Media