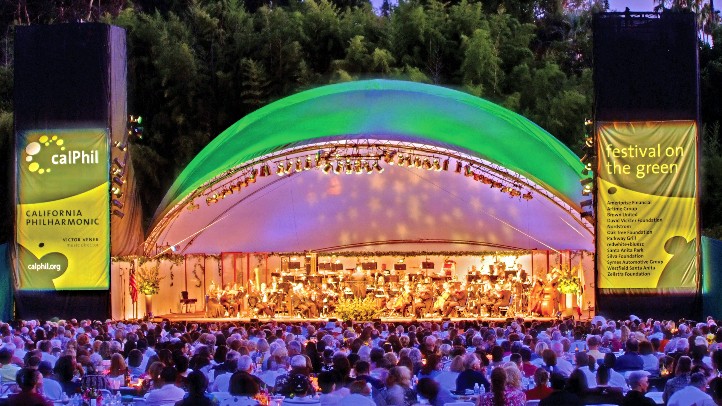 Those that think Santa Anita Track is only about horses need only turn an ear to the wind and listen.
Or, better yet, visit the infield of the Arcadia landmark to take in its latest non-horsey event: Festival on the Green.
If you just paused and scratched your chin and thought, "hey, isn't the Cal Phil's famous summer series a whole Arboretum thing?" we understand; the concert nights have been much associated with the garden setting for the past decade and a half. But 2012 is a new year and, with the closing of its Arboretum contract, the Cal Phil has settled on a new home at the famous racetrack.
Opening night is Saturday, June 30.
And as with past Festival opening nights, there's a mix of big orchestra and brassy, contemporary sounds. Maestro Victor Vener is the man with the baton, Cal Phil are the artists with the instruments, Vanessa Carlton will be there to lend some big voice, and the USC Marching Band'll raise the roof.
But wait, there's no roof. There is, however, a massive clam-shell stage and those singular, Santa Anita-esque views of the San Gabriel Mountains.
A Festival on the Green rep says that the summer series, which will happen over five nights in 2012, will be more expansive, in several ways, than the shows at the Arboretum; pony rides and bars and a petting zoo and pre-show entertainment will cater to both grown-up music lovers and young enthusiasts, too.
Each of the Festival nights will boast a different them, from "Star Wars" to The Association, live. Final night of the 2012 series is Saturday, Aug.25.
Follow NBCLA for the latest LA news, events and entertainment: iPhone/iPad App | Facebook; | Twitter; | Google+; | Instagram; | RSS; | Text Alerts | Email Alerts
Copyright FREEL - NBC Local Media