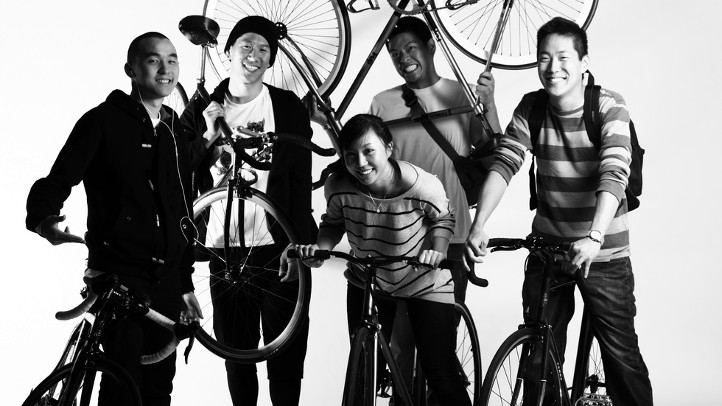 Probably many of us have sat in the over-sized wicker chair at some point.
Are we referencing those particularly high school-style photo shoots a lot of us once sat for back in the day? Oh yes, we definitely are. You either sat in a giant wicker chair, with chin resting on your hand, or you posed for a '70s-era double portrait, the one where there is one you looking straight at the camera and another you hovering above in profile, ghost-like.
But what if you could have a fun but professional portrait done with something that you truly dig? Like your beloved bike? It's an offbeat concept but one that the Hammer Museum has embraced. The Westwood venue throws an annual Bike Night -- it is free, hooray -- and one of the centerpieces of the night are the awesome bike portraits. Which are also free, so hooray again.
Even if you don't want to get wacky with your wheels for a professional photographer's camera, you can still attend the Thursday, June 7 party and live it up. You can make "art reflectors" for your bike and admire customized cycles and get a courtesy tune-up and watch a screening of "Quicksilver." Is that the Kevin Bacon flick from yore, you ask? Why yes it is.
This is all free, as we said, including the portraits. Oh, you'll pay for food and drink, but the bikely doings are gratis. That's good, right? You don't want to be weighed down by a heavy wallet when you're tooling along on your favorite get-around device.
So we're sorry, wicker chairs. It was fun to share a formal portrait with you, but adults we should be able to choose what we share our pictures with. And if a person spends a lot of time on her bike, that is what should be in her picture frame.
Unrelated but coming up: the LA River Ride. Going? It's Sunday, June 10.
Follow NBCLA for the latest LA news, events and entertainment: iPhone/iPad App | Facebook; | Twitter; | Google+; | Instagram; | RSS; | Text Alerts | Email Alerts
Copyright FREEL - NBC Local Media