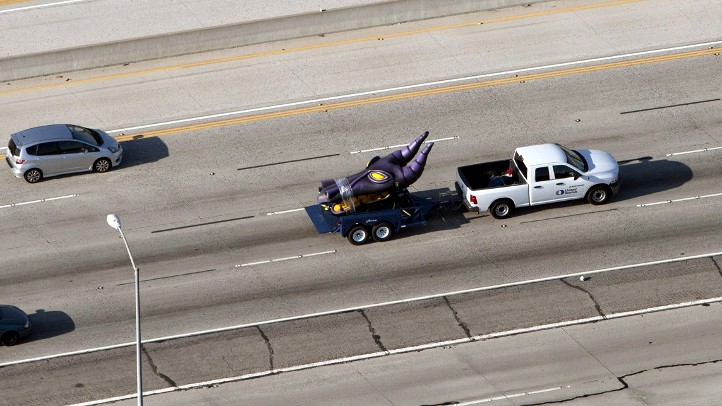 Seeing a giant purple dragon head on a Southern California freeway? That's like pretty much any Tuesday, right?
Or at least it seems that way, here in the capital of movie-makery. Our freeways have been home to car chases and other cinematic shenanigans, so when one looks over while sipping their morning coffee and happens to spy a beastly noggin in the truck next to them, it is almost like "yep. There's a giant dragon head."
But Tuesday, May 8 was extra special and extra dragon-y. That's when the Maleficent dragon head from the Disneyland's Main Street Electrical Light Parade was chauffeured from the Anaheim theme park to the Reagan Library in Simi Valley.
It wasn't just a drive for pleasure; the Disney artifact will go on display at the library as part of the upcoming Walt Disney archives exhibit. It opens on July 6.
So, did you see it? Were you surprised? Did you recognize it as a "Sleeping Beauty" creature? (You remember that the villainous Maleficent turns, rather dramatically, into a dragon near the end of the film.) Do you miss the Main Street Electrical Light Parade? Do you know that it continues on in Orlando?
D23, the official Disney fan club, was behind the transport. Our last question is this: What's the next whimsical and odd sight we'll see out on the 5 or 101? And when? We vote soon because, hey. Hollywood and magic and all that.
Follow NBCLA for the latest LA news, events and entertainment: iPhone/iPad App | Facebook; | Twitter; | Google+; | Instagram; | RSS; | Text Alerts | Email Alerts
Copyright FREEL - NBC Local Media