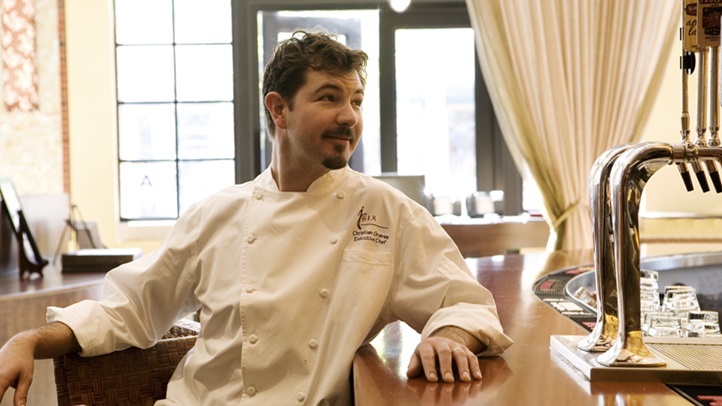 SUDS CELEBRITY: It's impossible to mention the rise of quality craft beer without mentioning San Diego. The city made a sudsy stand for itself throughout the aughts, both through very (very very very) popular festivals and a number of new taverns serving a rainbow of thick, hopsy, small-batch ales. And we don't simply mean that people should mention San Diego in a California context; the city holds court with Portland and Denver for doing it right. But the innovation in a pint glass hasn't slowed; it's just trying out new spots. Say, like a hotel. Hotel Solamar, to be specific. The Kimpton property, which is snug in the Gaslamp-Ballpark nexus, is going the home-brewing route. It's a charming turnaround from what usually happens; an ambitious foam fan will try and replicate a business's brew at home. Now a hotel is supporting that homey, made-in-one's-kitchen flavor, and chef Christian Graves is at the helm.
WEEKLY SOCIAL: If you're at the Solamar from 5 to 6 p.m. on the last Thursday of the month you're likely to find Chef Graves hobnobbing over hops and flavors and body and such with guests. That's "Craft Beer Hour" at the hotel. But Chef isn't simply jumping into this as a new enthusiast; he's a home brewer himself, meaning he'll be able to discuss the brews guests are enjoying. (They'll hail from San Diego's best craft breweries, fyi, so this could be a good way to catch up with what the area offers.) He'll also discuss home-brewing techniques, too. Call it the traditional hotel wine hour updated for those who love a really solid, made-by-hand lager or porter. Remember when chefs used to ask you if you were enjoying your meal? We rather like the idea that they'll discuss with us our own kitchens and brewer aspirations.
Oh, and of note? Seasonal brews'll be on the pour every night in June from 5-6 p.m.
Copyright FREEL - NBC Local Media