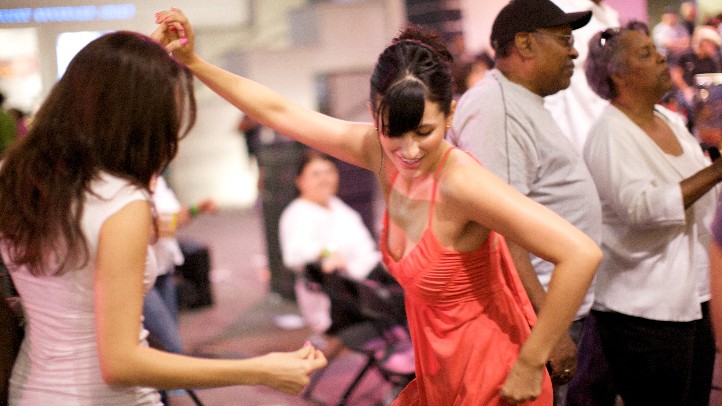 How is the concept of summer depicted in a Hollywood-style movie? Seems like people are usually dancing under the stars, right? There's some swaying and there is music playing and the drink is flowing and the vibe is sparkly and sweet?
That's how summer plays out in real-life in the heart of Hollywood as well, funny enough. Wine, Jazz & Moonlight, which we'll now call a Hollywood & Highland tradition, offers all three of those things and definitely the last two things for free.
And the wine part? You can get a wine tasting, plus a snack box, for ten bucks. Not bad at all.
Wine, Jazz & Moonlight kicks off on Tuesday, June 12 with Jose Rize's Mongorama and wraps up on Tuesday, Aug. 28 with the Hot Brass Band.
There are a dozen 2012 dates in all.
The shopping center is joined by two partners in the summertime Tuesday night music series: kjazz 88.1 FM and Project Angel Food, who is the beneficiary of money raised. Nearly a quarter of a million dollars has been donated to the organization thus far, we'll note; Project Angel Food gets healthy meals to people living with HIV and AIDS. (And all those meals are free to the recipients, too.)
If you want to just show to dance to some tunes, do. If you want to show for the wine tasting, do. If you want to just show to experience a soft summer Hollywood night, the kind directors so often want to recreate in their films, do. It's real, the jazz is fantastic, and it is, save the wine and maybe a few bucks for parking, free.
Follow NBCLA for the latest LA news, events and entertainment: iPhone/iPad App | Facebook; | Twitter; | Google+; | Instagram; | RSS; | Text Alerts | Email Alerts
Copyright FREEL - NBC Local Media