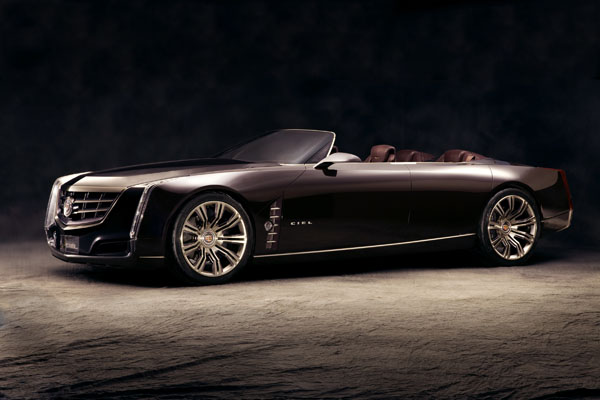 Concept cars offer automakers an opportunity to use their imaginations with the understanding that whatever pops out of their heads will be considered a work in progress.
LA Auto Show: News, Exhibitor Information, Images
Some of those ideas will be hidden away, stored in an office drawer at corporate headquarters to serve as a reminder of what not to do.
But other concepts will progress in different forms, perhaps lending their most appealing elements to a vehicle of the future. Others will become, with a few variations, full-on road vehicles.
And, there's always an outside chance that a superhero needs a cool ride.

Concept cars provide automakers with an opportunity to place products of their imagination in front of the public -- and to place a nuclear reactor behind the passenger cabin. They're supposed to be unlike anything we've seen before, but it's not just about what we can see that matters at this year's LA Auto Show. This year's concept cars not only offer radical styling, but you'll also find some interesting technological applications and interesting takes on the driver's environment.
Click on the image gallery (left) to see images.

BMW i: Possibly two of the most important cars at the LA Auto Show. One of the great automakers will go electric with its BMWi sub-brand. The BMW i3 is an all-electric small car designed for moving up to four people around an urban area. The i8 is not -- it's designed to re-define what we think of when it comes to sports cars. The i8 uses a small petrol engine and a electric motor to create high levels or torque and excitement.

Cadillac Ciel: After honing its performance credentials at Germany's Nurburgring with the lightning quick CTS V, Cadillac shows it can still do what Cadillac was once known for doing -- creating larger-than-life cars with a commanding presence. The Ciel is an audaciously designed car, but not a reckless exercise in excess -- it rolls with purpose and a hybrid system that uses lithium-ion batteries and a 425-bhp twin-turbo V6.

Jaguar C-X16: One of the best looking cars at the show, this is what auto enthusiasts might expect from the makers of the beloved E Type Jags. The way the roofline melts into the rear haunches makes it hard not to stare. Under the hood -- a 375-bhp supercharged six mated with an electric-dive system. On the steering wheel -- a button that activates boost from the electric dive, similar to Formula 1's "push-to-pass" button.

KIA GT: Most non-Kia owners know two things about Kias -- Blake Griffin jumped over one and dancing hamsters enjoy going places in them. The GT, equipped with rear-hinged "suicide doors," would be going up against a list of heavy-hitters in the "four-door coupe" market, such as Audi, Jaguar and Mercedes. But at the Frankfurt Auto Show, a Kia designer described it as the "kind of car Kia should be making."

Land Rover DC 100/DC 100 Sport: One has a fixed roof, the other is an open-air model, both appear to get back to Land Rover's rugged-vehicle roots, inching away from the well-equipped castle-on-wheels approach. Land Rover has called the DC 100 the beginning of a journey, suggesting it's not production ready.

Subaru BRZ: Early reviews have praised this front-engine, rear-wheel drive sports car as the best of Subaru and Toyota -- the two automakers who joined forces to create the BRZ. After agreeing that handling should trump straight-line speed and horsepower figures, engineers set to work on a fun-to-drive car that expands both company's product line.
Volvo You: Ford sold Volvo last year to China's Geely, which has indicated it wants a more upscale brand. The four-door fastback You is a major change in styling for Volvo, and the changes are evident inside, too. An iPad-like center touchscreen eliminates the buttons, knobs, levers, dials and anything else that might offend the smooth interior lines.
You can check out this year's concept car at the LA Auto Show Nov. 18 through 27.
Follow NBCLA for the latest LA news, events and entertainment: Twitter: @NBCLA // Facebook: NBCLA