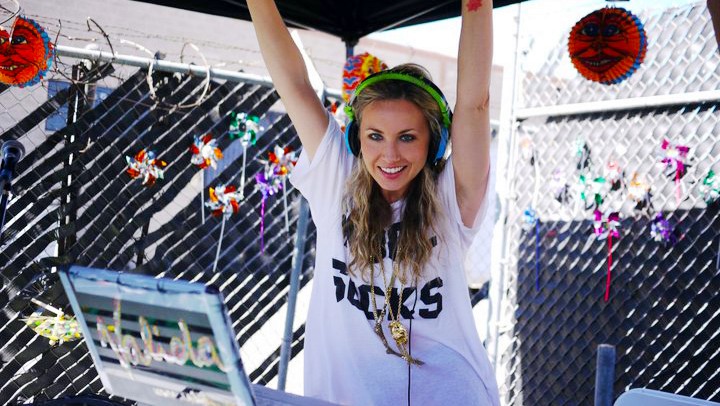 Hammer Bash!, that annual free summer party series at the Hammer Museum in Westwood, takes on an especially local flavor this summer via the Made in LA series.
Oh, Made in LA? Perhaps you've already read about or visited the multi-venue art biennial celebrating a host of artists and visionaries who have created and painted and sculpted right here in these parts.
Tie that show into the sounds of KCRW DJs, book a generous handful of summertime Thursdays, and then make the whole thing free, and you do have a Hammer Bash! indeed. The first Made in LA Hammer Bash! is set to roll on Thursday, June 28 at 7 p.m. with Jason Bentley and Jeremy Sole playing the smooth sound makers. More DJs, like Valida (pictured above), will do the swing by in the coming weeks.
But it isn't simply the music that is free; the Hammer'll keep the galleries open late for revelers, which is dang nice of them. Isn't that a summertime staple, too? The stays-open-late-free-gallery thing?
The two things that will cost cash money is the bar, should you want liquid refreshment. And parking is three bucks after 6 p.m. But if you don't want a beverage and you ride your bike, the night is zero dollars free.
And another Made in LA mention: Artists like Scott Benzel will be at the parties making art (Mr. Benzel, in fact, will be at the June 28 shindig).
Hammer Bash! Made in LA runs every Thursday night from June 28 through Aug. 9. That looks like a three month stretch, but, really, it is only six or so weeks, so don't put this groove-filled goodness off. Did we mention it is free?
bottom photo: Jeremy Sole
Follow NBCLA for the latest LA news, events and entertainment: iPhone/iPad App | Facebook; | Twitter; | Google+; | Instagram; | RSS; | Text Alerts | Email Alerts
Copyright FREEL - NBC Local Media