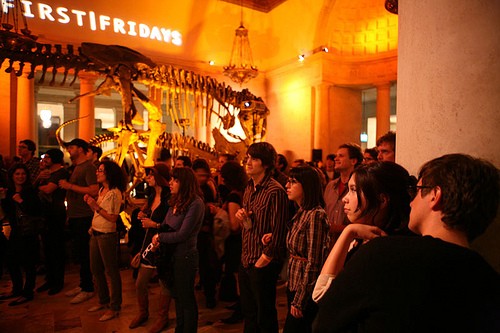 The Natural History Museum is full of goodbyes, when you think about it.
For example, that T. Rex and Triceratops in the Grand Foyer? Yeah. They've said their final farewells. Probably will never see them roaming the planet again. Well. Never say never, but probably not any time soon. Like. Not this year, or next. Just guessing here.
A far more temporary goodbye is happening on Friday, June 4. That's the last of the museum's much-adored/much-attended First Fridays. The First Friday program runs on the first Friday of the month throughout the first half of the year.
First Fridays, unlike Mr. T. Rex, will be back soon, we imagine; if tradition holds, the start of 2011. But we'd get to the June 4 one, that is if you like DJ-close dancing and science talk and convivial hobnobbing next to various tundra-like exhibits.
Time is 5ish to 10:30 p.m.ish, cost is $15 for museum and music.
And, we should say the Natural History Museum has plenty of hellos, too. The massive Age of Mammals exhibit is set to open in just a few weeks. Mammals everywhere, make note.
Copyright FREEL - NBC Local Media