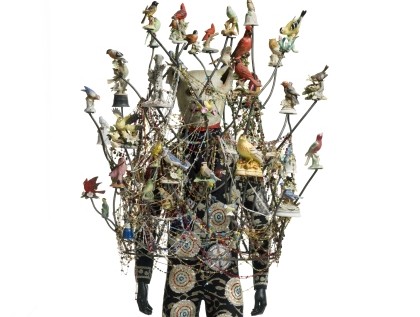 That shwuck-shwuck made by a coat sleeve brushing against a torso, or two knees crossing, are sounds many of us have heard from our clothing.
But, are you listening? Artist Nick Cave (no, not *that* Nick Cave) has turned an ear. And an eye, and his hands, and his mind, to creating Soundsuits, wearable art that is meant to be heard as well as seen.
The Chicagoan's new show -- Meet Me at the Center of the Earth -- is currently on display at the Fowler Museum at UCLA. It's on through May 30th.
And there's much looking/listening to be done, given the 35 Soundsuits on display. One summons the ornithological world. Others, sheer whimsy. There are suits that incorporate hair and metal and other not-so-ho-hum objects of our everyday world.
As always, visiting the Fowler is free. We won't recommend wearing your loudest outfit -- by sight and sound -- but we do suggest keeping an ear out for what your clothes have to say from here on out.
Copyright FREEL - NBC Local Media