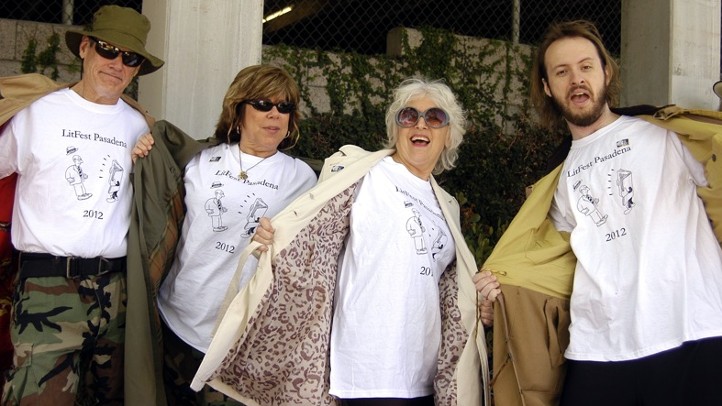 Remember when we had that hugely rainy weekend, oh, along about St. Patrick's Day? And outdoor events left and right threw in the damp towel and said "well, we'll maybe try again later?"
Yeah, it kind of was a bummer, especially for those events launching their first year. LitFest Pasadena comes to mind here, and while a wet day is conducive to those who like to stay in and jump into a book, it isn't so great for those who'd like to wander around a park chatting up authors and discovering new reads.
But the new read fest is going to give another go. The date's Saturday, May 12, the location is Central Park in the Crown City, and a bunch of bookly haps are on the all-day schedule. Like? Panel discussions tackling tempting topics like noir and graphic novels and the LA publishing scene. A children's area'll features storytellers. And several authors will be in the park, like food maven Jonathan Gold.
And, naturally, Vroman's will be in the house, or, er, under the trees. Did you know that the Pasadena institution began in the 19th century? We had to go back and italicize that. Yep, 1894. Put that in your tea mug and sip it, people everywhere who feel inclined to pick on Los Angeles for not having a love of books. Now that you've sipped it, can we be friends and move past this? Good.
LitFest Pasadena is free. Thanks for weather the storm and trying again, LitFesters! Give it up for gumption. And great books, too.
Follow NBCLA for the latest LA news, events and entertainment: iPhone/iPad App | Facebook; | Twitter; | Google+; | Instagram; | RSS; | Text Alerts | Email Alerts
Copyright FREEL - NBC Local Media