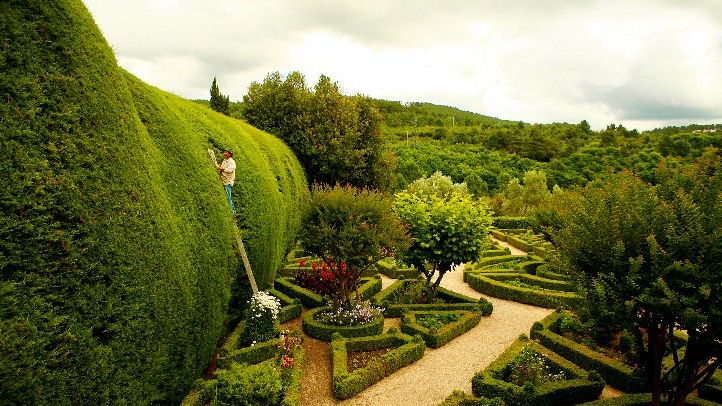 Marina del Rey-based photographer Laura Grier was just named a Merit Winner in the 2011 National Geographic Traveler Photo Contest. Her photo, snapped about three years ago in Portugal, is a stunner.
We asked the professional photographer about the story behind the image. Like many great tales, it involves getting a little lost and a little lucky.
Ms. Grier was in Portugal's Douro Valley to photograph a wedding when, on the way to see a castle, she and her party got lost. A man at a bar offered to show them the way to Casa de Mateus, which photographer described as having "Alice in Wonderland" gardens.
She was also struck by the man trimming the huge hedges, which seemed to her a Sisphyean task. Out came her camera, and contest history was made.
The photographer says "I felt like capturing this scene, because it was beautiful and lonely and made me feel all of these things in a split second. I usually am attracted to bright, vibrant imagery, but I felt compelled to capture this scene. I felt this subdued scene was more the style of National Geographic, because it illustrates that there is beauty in everyday mundane moments, not just those moments that are exotic and have a dramatic plots."
When we asked the artist where she likes to take pictures closer to home, she mentioned The Figueroa Mountain Farmhouse in Los Olivos, Saddlerock Ranch and Vineyards in Malibu, and Venice Beach (which of course is much closer to home for Ms. Grier).
You can find her work at Beautiful Day Photography and Laura Grace Photography. She's got quite the storied resume -- read all -- and cites David La Chappelle as an important early influence.
For all the 2011 National Geographic Traveler Photo Contest Winners, look here.
Copyright FREEL - NBC Local Media