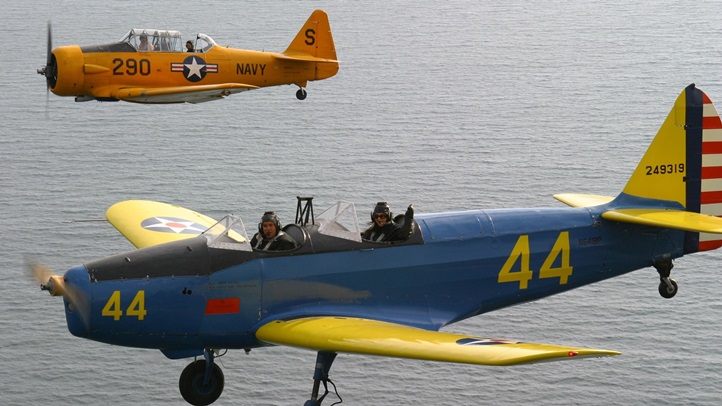 OVER OUR HEADS: Southern California's ties to early flight are so rich, complex, and spread wide throughout the region that just about anywhere you go you're bound to dig up tales of early pilots and their derring-do. True, the Wright Brothers and Kitty Hawk belong to North Carolina, but the Spruce Goose and SoCal have a shared history, and great fliers like Amelia Earhart and Neta Snook have gazed far down at this area's ground. Thus any large-scale air show that summons the stylish flying machines of yore, and the talented pilots who loop-di-loop above our heads, feels right at home. Especially in Camarillo, which is one center for flight, and the long-running Wings Over Camarillo show, which lifts off on Saturday, Aug. 23 and Sunday, Aug. 24 at Camarillo Airport.
NEW MACHINES, TOO: The vintage planes are numerous, but expect to see some fly-bys from fresher tech. Like? Well, the Red Bull Helicopter for one. Chuck Aaron, the acclaimed helicopter acrobat pilot, will fly over the weekend, which promises to be one of the gasp-summoning centerpieces (yep, Mr. Aaron has famously flown it upside down). For people who want to go up to the sun, or at least a little ways in the direction, there are rides available in various warbirds, at different price points. And shall there be parachutists? No good-sized air show is complete without 'em. Plus, for people who like their vroom low to the road, a classic car show shall unfold.
TICKETS: It's fifteen bucks general, but kids under the age of 12? They get in for free. A beer garden, a pancake breakfast, and a tent just for veteran pilots -- many do show up and meet fans -- are part of the aviation-cool doings.
Copyright FREEL - NBC Local Media