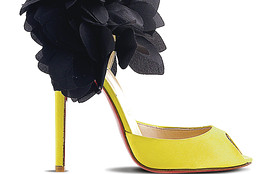 Monumentally, "For the first time in recent memory," the WSJ reports that purveyors of luxury goods, such as Chanel, Versace, Christian Louboutin and Chloé, are lowering prices from 8%-10% on designer apparel, shoes and handbags in the US.
Notably, the fact that the "dollar has increased 28% against the euro since April" makes it so "most European fashion houses" won't suffer in terms of their profit margins. In other words: "The strengthening of the dollar means luxury-goods companies are earning more than they had budgeted on every handbag or piece of clothing sold in dollars," since they make products in Europe and pay in euros for materials and labor.
Though Louis Vuitton's growth has slowed, it's not cutting prices for the time being: "This year alone, the company has raised sticker prices in dollars twice for an average increase of 10% and sales have still continued to rise."
This could give a boost to upmarket department stores which have been struggling. The paper notes: "Just last week, luxury purveyor Neiman Marcus reported its same-store sales in October dropped 27% to $281 million, while sales at Saks Fifth Avenue fell 16.6% to $219 million."
· In Rare Move, Luxury-Goods Makers Trim Their Prices in U.S. [WSJ]For more stories from Racked LA, go to la.racked.com.
Copyright RACKL