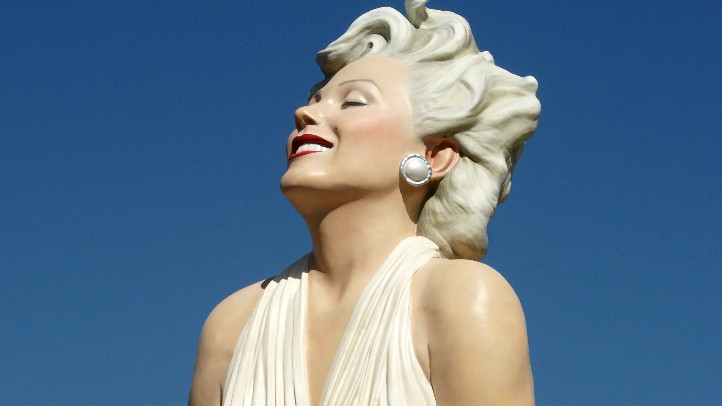 MARILYN NEXT TO MARILYN: If you're going to screen several classic Marilyn Monroe flicks, just about any place is a fine place to do so; bet the fans'll show, in droves, to see her white dress blow over the subway grate. But if you really want to do something special you'll screen the movies next to an 26-foot-tall likeness of the star, an artwork that has gained acclaimed the world over. That's exactly what P.S. Resorts, a group of Palm Springs hotels, will do starting on Friday, July 13. Four Marilyn favorites will show over four Friday nights in the shadow of Forever Marilyn, the over-sized sculpture on the corner of Tahquitz Canyon Way and Palm Canyon Drive; well, perhaps "shadow" isn't fully accurate, since the films'll roll after sundown. Still, it is kind of a gas, right, to watch some gems next to a famous artwork celebrating the star? We like.
AND WE ALSO LIKE.. That Marilyn Monroe herself used to love the desert playground. True, all the stars did, but the icon had special ties to the place. Nope, we don't need to see movies in the cities that the stars adored, but we note it when it happens.
AND WE ALSO LIKE... "Some Like It Hot," a film that owns everyone's heart forever and ever. What? It is a fact. That screens on Friday, July 20. The other movies include "Gentlemen Prefer Blondes" on Friday, July 13, "How to Marry a Millionaire" on Friday, July 27, and "The Seven Year Itch" on Friday, Aug. 3. Oh, and if you want to see the dress-blowing scene, as depicted in the 26-foot-tall artwork? Yep, "The Seven Year Itch" is your movie; we can only imagine the applause that moment will get. It'll be a quartet of vintage-sweet nights for anyone visiting P.S. for a summer weekend getaway. Now, where did we stash our halter dress again..?
Copyright FREEL - NBC Local Media