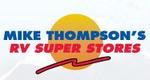 This article is sponsored by Mike Thompson's RV, California's #1 RV dealer. From camping trailers to luxury motorhomes, find the perfect vehicle for your family at MikeThompson.com.

From mountains to beaches, the desert to wine country, California is naturally blessed with some of America's most beautiful and diverse landscapes. There's just so much to do and see here! And there's no better time to do it than this summer.

But if you and your family want to experience a memorable road trip by exploring all this great state has to offer, you're going to need the right vehicle.

That's where Mike Thompson's RV comes in. With over 40 years of experience and five locations in Southern California, this family-owned company has the knowledge to outfit your next trip and the inventory to fit any budget. From inexpensive camping trailers to luxury motorhomes, you'll find the perfect vehicle to help create a lifetime of memories for your family.

But RVs aren't just for road trips. Stay local too by tailgating at the stadium, heading down the street to your daughter's soccer game or having a slumber party in the driveway. The kids will love it and so will you.

So don't miss a moment with your family by heading down to Mike Thompson's RV today to start your summer adventures. Visit MikeThompson.com to learn more.