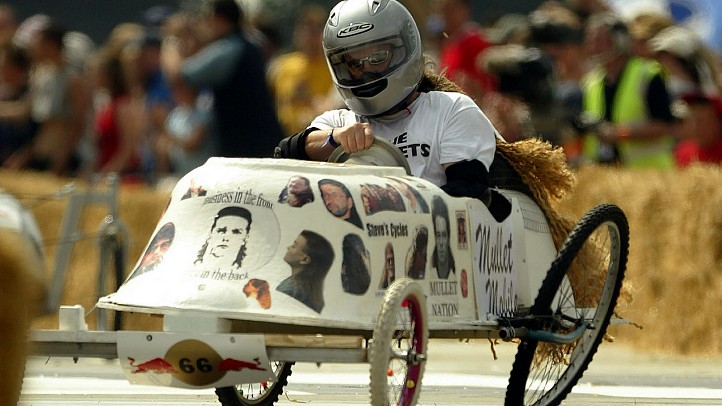 How's that kumquat-shaped, scratch-n-sniff scooter coming along?
We expect you've taken the last week or two of work off, the better to tinker with your awesomely awesome entry in the 2011 Red Bull Soapbox Race, which will be astounding onlookers downtown on Saturday, May 21. Oh, you haven't? No matter. Many participants have been hard at work on creative, human-powered racing machines, and you can admire their handiwork.
And when we say "hard at work" we don't mean on just the mechanics of the cars. Nope. How the cars look, and whether they make viewers laugh or scratch their heads, is very important. Yep, there was a mullet vehicle in a Red Bull soapboxer in England a few years back. And a car wearing a kilt.
(When you see the mullet car, do you feel like whatever new hobby you're considering taking on needs to be instantly scuttled in favor of building more mullet cars? You're not alone.)
The names of the competing teams need a look. The Baked Muscles? Hamster Rampage? Nice going, name-thinker-uppers.
It's free to watch and sure to be crowded, so get your Grand-close spot early in the day (5th Street will also see some hot action). The races toot-toot at 1 p.m. (We say toot-toot because we're picturing those old-fashioned bike horns on the cars; you too? More old-fashioned bike horns on more things.)
Copyright FREEL - NBC Local Media