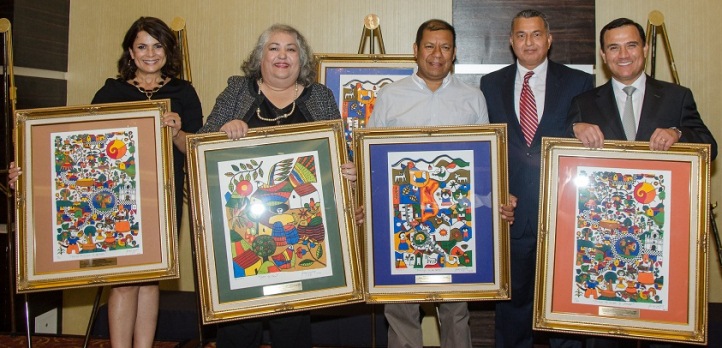 NBC4 Southern California was awarded a "Corporate Service Award" from the Salvadoran American Leadership & Educational Fund at the 19th annual Awards & Scholarship Celebration in Downtown Los Angeles on October 24, 2014.
Terri Hernandez Rosales, vice president of community affairs and communications accepted the award on the station's behalf. Other honorees included Dennis Arriola, president and CEO of SoCal Gas received the "Company for Excellence in Leadership" award; Laura Trejo, general manager of Los Angeles Department of Aging, received the "Salvadoran of the Year" award; and Pablo Alvarado, director of National Day Laborer Organizing Network, received the "Social Justice" award.
NBC4 Co-anchor and Reporter Daniella Guzman and NBC4 Sports Anchor and Reporter Mario Solis were the evening's hosts.
SALEF's mission is to promote the civic participation and representation of the Salvadoran and other Latino communities in the U.S., promote the economic development and democracy in El Salvador, as well as to advocate for its economic, educational, and political advancement and growth. To learn more about SALEF, visit www.salef.org.