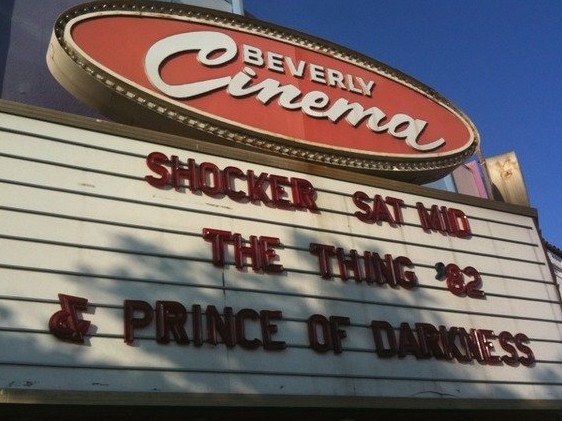 We applaud good changes that make things good for good people. And good people love the New Beverly Cinema, which is staffed by other good people. There are orange-hued '70s trailers, and inexpensive popcorn, and those iconic made-for-the-fridge schedules.
Good.
Here's the latest good development: That swirling nexus of Beverly Boulevard-based moviedom just announced it is offering tickets online, via Brown Paper Tickets. Which is an excellent thing. A helpful thing. A welcome development for all filmphiles who've had to slip out of the office early to line up. And everyone one of 'em is hoping the same thing: that he or she will not be the person *after* the person the theater sells the very last ticket to.
We should note this is an experiment for October, but we're betting everyone will want and love and support this plan.
Granted, the camaraderie of the queue is one of the best parts of a great movie theater. But you can chitchat about your Scorsese theories and how you met Eli Roth this one time once you're inside. But not after the movies start. We don't even like chitchat during the trailers, but then we're difficult that way.
So thanks New Beverly! Make things easier. And easier is good.
Copyright FREEL - NBC Local Media