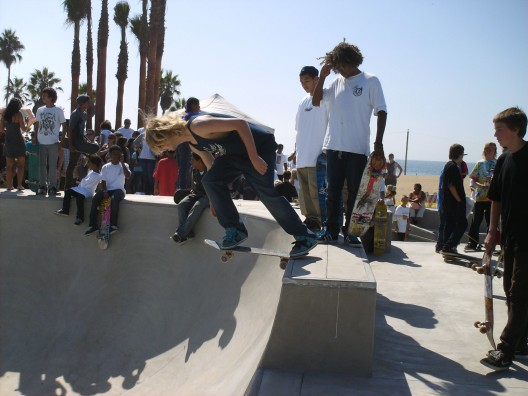 Venice
, near Windward Avenue and Ocean Front Walk.
Numerous city officials including City Councilmember Bill Rosendahl and Mayor Antonio Villaraigosa were in attendance, spending the better part of an hour trumpeting their achievement in getting the $3.4 million skate park built, which'll be named after Dennis "Polar Bear" Agnew.
Money for the park came from a variety of funds including Quimby fees (which as reported in Downtown News, aren't building much of anything on the eastside of town).
Professional skaters, including Jesse Martinez, Jay Adams, and Tony Alva—design input for the skatepark came from guys like Martinez, as well as local skaters--were also in attendance. With all the bowls, steps, and ledges, the place looks like a blast, and the skaters (mostly teenage boys) were visibly excited—let's hope the park can stay graffiti-free for at least a week.
Meanwhile, we asked Brett at Yo Venice for background on Agnew. He writes in an email: "He was one of the original Venice skaters that helped define the Dogtown ethos of skating during the heyday of the Dogtown skating days of Venice in the late 70's and early 80's. He was a Z-Flex team member (a skate board manufacturer and team sponsor in the 70's and 80's)."
Copyright CURBL