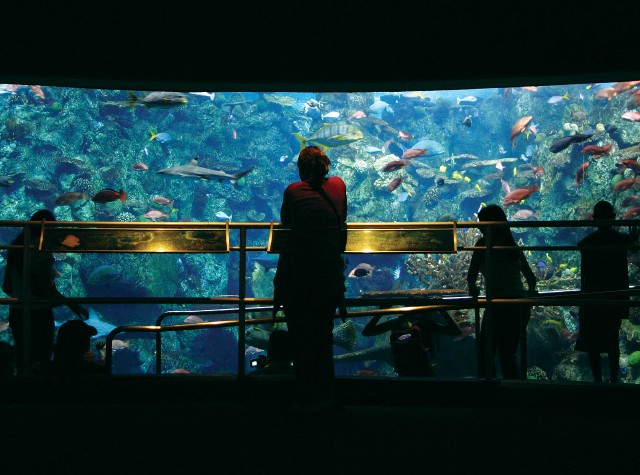 A lot of kids look forward all week long to a Saturday trip to the aquarium, but what of adults? Well, they're excited, too; one is not immune to the wonders and oddities of the ocean just because one long ago graduated.
But adults have a few special reasons to look forward to aquarium trips here in Southern California. That's because the Aquarium of the Pacific in Long Beach carves out a few Friday nights that are just for the grown-up ocean buff.
Next up on Friday, April 6? Noche de Estrellas, which is the institution's annual Latin-themed celebration. The music Latin rock, salsa, and cumbia, too (look for DJ Quinto Sol at the Blue Cavern). The cuisine is Mexican -- because this is a party for the adults, look for beer and drinks -- and the dive show is presented in both English and Spanish.
And if you're feeling like the kids would want to join for the night, that's a-ok; while it is a late-night event, meaning it'll run from 6:30 to 10:30 p.m., and alcohol will be for sale, there are no age restrictions.
Two more things to note: If you can't make the party but love the idea of visiting the aquarium after-hours, the discounted late nights have been extended. Also, the Aquarium of the Pacific will be closed during the Toyota Grand Prix, which zooms from Friday, April 13 through Sunday, April 15.
Follow NBCLA for the latest LA news, events and entertainment: Twitter: @NBCLA // Facebook: NBCLA
Copyright FREEL - NBC Local Media