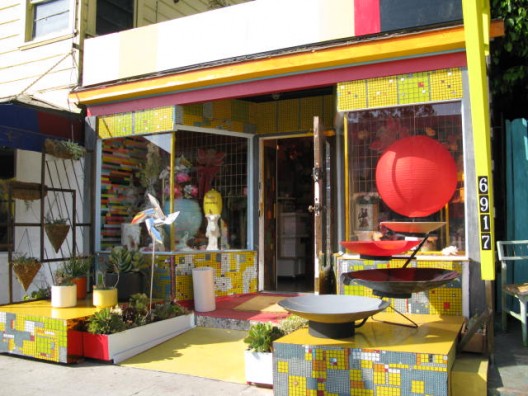 We just happened upon MyGifty—tag line: "live vividly, give creatively"—a little east of La Brea on Melrose, and it brightened our day. Owner/designer Ty Watcharaprecha has done a lovely job culling together an eclectic but complementary collection of products, from collectible rubber ducks and robots to swoon-worthy candles and diffusers, vintage and reproduction cards to Le Palais des Thés floral thermoses.
He's inspired by Chinese culture and the Victorian era, which lends itself to finding lacy fans in the same place you'll find a flurry of colorful lanterns. There's also Mile High Mobile Intimacy Kits and miniature reproductions of mid-century modern furniture. Something as staid as candles is made more exciting by the incredible range—Voluspa to Italian glass Santuario di Bellezza, Maura Peters to Abahna. It truly is gifty to the core, a place to find something for a child to adult, from $12 to $2,000.
It's also just a happy shopping experience, a feast for the senses from storefront to cozy interior. People seemed to be responding as there's not a ton of foot traffic, but quite a few shoppers came in while we were there. Ty told Racked: "People stop their cars because they want to know what it is." Given the current economy, MyGifty actually makes sense; we can't think of many other shops where you have ample choice for around $20 that wouldn't make you feel like you were being a cheap gifter. We know we will absolutely be going back in preparation of the holidays. [RackedWire]For more stories from Racked LA, go to la.racked.com.
Copyright RACKL