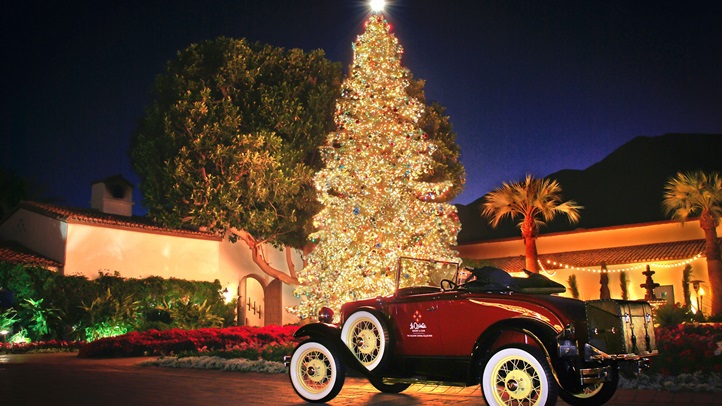 IT ISN'T ALL THAT UNUSUAL.. to pass by a television in a window or a cinema marquee, in December, and see that "It's a Wonderful Life" is playing. It's a film that's been festively folded into our national consciousness, but, more than that, our personal stories, too. Everyone sees a bit of George Bailey and his conflicts and his good heart in their own everyday actions, and revisiting the 1947 classic each holiday season affirms that connection. But seeing the movie played large, against a wall, once a week, at a particular location, can only mean one thing: The movie has important ties to the place. La Quinta Resort & Club, the Waldorf Astoria Resort that sits alongside the grand Santa Rosa Mountains, has little to do with fictional Bedford Falls, the quaint-tastic small town seen in Frank Capra's most famous film, at least visually. But La Quinta has much to do with the filmmaker, a man who wrote and worked on and dreamed about many of his celebrated cinematic works while staying in a casita on the desert-pretty property.
AND THAT PROPERTY... pauses at the end of each year to pay homage to Mr. Capra, the resort's most famous return guest (and that's saying a lot, since La Quinta was early Hollywood's go-to desert playground, even before Palm Springs became a mid-century icon). True, you can book the recently refurbished casita that saw the writer-director craft some of his most beloved tales, a casita that still has his typewriter on the desk, as if he just stepped away. Or you can be there on a Friday night to see George Bailey writ large on the side of the Fiesta Wall. Or you can get into the spirit with a caboodle of classic holiday callings, from the Nov. 28 tree lighting to the roasting of chestnuts to the lighting of the menorah to live tunes to trunk shows and shopping, too. If you're there on Christmas morning, the tots in your party can receive a personal wake-up call from Santa Claus himself. Special suppers, all with a seasonal feel, shall also be a part of Christmas week.
DO YOU NEED TO RUN... through the lobby, shouting "Merry Christmas, everyone!" like George Bailey did in "It's a Wonderful Life"? Probably not the best idea, since desert vacationers are looking for a little bit of relaxation. Also relaxing: The not-too-dear starting price of $199 for a room, less taxes and the resort fee. (The rooms, like the Capra casita, just underwent a major rehaul, with fresh carpeting, stylish curtains, and such.)
THEY SAY... the holidays book up at destination hotels, but for a hotel that has some major holiday cred, those book-ups move as fast as a certain Bedford Falls resident running happily through the streets of his hometown.
Copyright FREEL - NBC Local Media