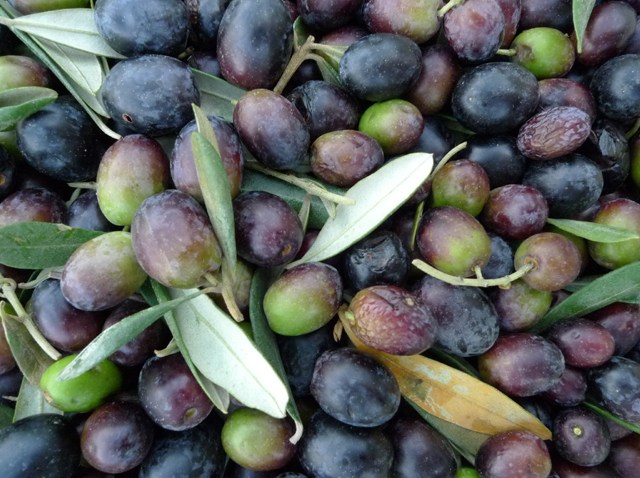 SOUP TO NUTS, LITERALLY: Fans of the olive, and we're talking about extreme aficionados, those people who stand by the snack table at parties gobbling up three to four olives at a time, have felt a little miffed over the years. They've seen other foods go both savory and sweet with ease. They've watched other additions and ingredients and edibles appear in both the entree and the dessert. But the olive? It's always been relegated to the salad or the stew or the pasta sauce or, yes, the snackables table, but never, ever the sweets. That's changing, rapidly, and fans of the fruit may rejoice. Olive oil ice cream is a thing now -- perhaps that even deserves a capital T, as in Thing -- at some of California's fancier creameries. And salty olives as a dessert topping? Well, they haven't fully taken off here, but a number of countries turn to the kalamata or similar olives to give a tang to a sugary foodstuff.
WHICH IS ALL TO SAY... we need to celebrate this tiny wonder, not just for its savory and oily properties but now, apparently, the occasional ability to liven up the pudding course. Paso Robles knows the olive score, we're happy to say, and it salutes the fruit each August with a full-day festival. And that fest is just ahead, on Saturday, Aug. 17. Olive oil tastings, and straight-up olive tastings, are part of the eat-drink party, as is wine. (This is Paso, after all.) And hello: free olive oil ice cream will be served. Oh yeah. The dream has begun, fellow olive friends. The olive's profile as a dessert food is on the rise.
MAKE A WEEKEND OF IT: Perhaps you've heard there's one or two or dozens upon dozens of wineries in the Paso region? If you like olives, you might have an affinity with the libation they seem to be frequently paired with. Find your perfect tasting room for a sunny August Saturday or Sunday.
Copyright FREEL - NBC Local Media