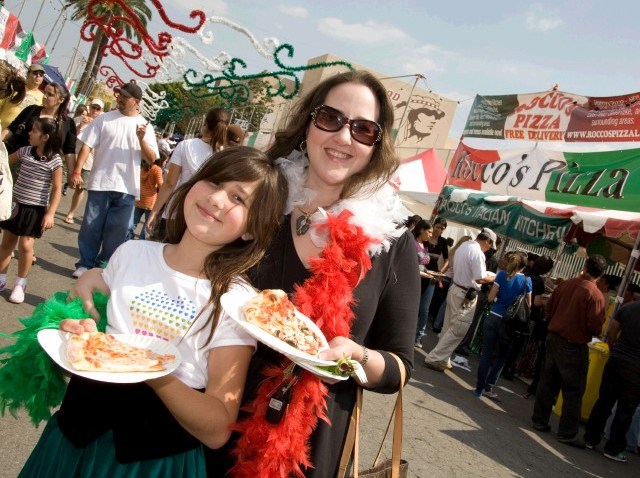 Well, the pizza is often first, when people who haven't been to the Feast of San Gennaro ask people who have been to the Feast of San Gennaro what they should try.
Oh, the pizza. The calzones. Doughy things, flecked with Parmesan and salt, that are meant to be dipped in creamy sauces.
The Eighth Annual Precious Cheese Italian Feast of San Gennaro is taking over a street in Hollywood for three days -- September 25th-27th -- and eating will be a major part of the festival experience. So will the starry appearances (Jimmy Kimmel and Adam Carolla are well-known San Gennaro supporters) and the carnival rides and the comedians and the music.
And yes, we also always mention the pizza first. But, almost immediately after, we talk about meeting a giant talking cheese man -- a string cheese man, we should say -- during our first San Gennaro visit. He was the nicest string cheese man we ever met -- took some pictures with us, even -- and that's what we still wax rhapsodic about.
Well, we don't wax rhapsodic just about the talking cheese, of course. Rather, we like that San Gennaro is the sort of place one might find a giant talking string cheese man. It's a family-fun, traditional festival, with roots that go back decades in New York City and other spots around the globe.
And like in New York, the party spreads out over a full street (in this case, Hawthorne between Orange and Highland). There's a convivial carnival atmosphere. Even the old-fashioned clear lightbulbs strung up here and there make the fest feel like it might just be happening a half century ago.
So, are you going? Are you having the pizza? Say hi to the string cheese guy for us, and enjoy a street fair with a long and storied past.
$5; children under 12 admitted free.
Copyright FREEL - NBC Local Media