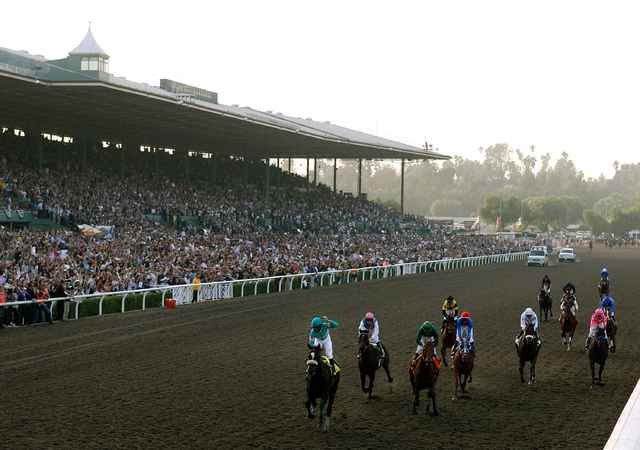 What are you doing the day after Christmas?
You may be up at dawn, ready to buy that wrapping paper for half off. But bet there are others awake before you, neighing and sighing and whinnying in some particularly famous paddocks in Arcadia. Sunday, Dec. 26 is the big opening day at Santa Anita Park, a place where clip-clopping replaces shopping and jockeys take precedence over jockeying for deals.
Plus, mountains and palms. We'll never get over the view. None of us ever should.
If a day at a historic racetrack over a day out finding deals is more your cup of cocoa, you can get all the info on opening-day activities and the "new, all-natural dirt main track." Beyond admiring the ponies, we like to read all about the track surfacing. You as well? It is rather amazing stuff. Also, we like that the jockeys wear multiple goggles when it gets muddy.
(By the by, horses and humans alike have to be happy the rampant sogginess has stopped for the time being.)
If you just can't wait, you can follow the opening day clock. We know you're also watching the Santa Norad tracker this weekend, too, but maybe you can toggle back and forth between the two. And if you want more Santa Anita tracking, there's a desktop calender with all the important dates. The season'll run right into the middle of April.
Cue appreciative whinny.
Copyright FREEL - NBC Local Media