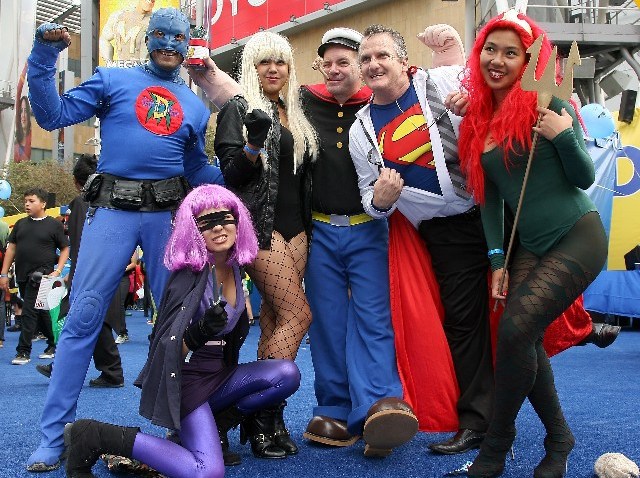 When you first heard that hundreds of superheroes were going to descend -- or, um, alight from flight -- on LA Live, all in the hopes of breaking a Guinness Book record, did you have questions?
We had questions. Our first question was would "Megamind" star Will Ferrell definitely show for the Saturday, Oct. 2 event, all curly-headed and cute and eyebrow-cocky. Question answered ("yes").
Our second question was whether our most famous local superheroes, the ones from the heart of Hollywood Boulevard, would make an appearance. Question answered (affirmative; both Christopher Dennis, aka "Superman," and Joseph McQueen, aka "The Hulk," were there).
Our third question was this: What would everyone else dress as? Well, there were many "X-Men"-y type costumes. There were some Batmans, of course. And then was the Harry Potter and Popeye element. We've never really thought of either Harry or Popeye as traditional superheroes -- and don't get us wrong, we're big admirers of both gentlemen -- but maybe we'll change our definition of superherodom now.
And if your fourth question is "was the world record broken?," here's that answer, straight from the World Records Academy. (Hint: We're dealing with superheroes here. And superheroes rarely, if ever, let their public down.)
Copyright FREEL - NBC Local Media