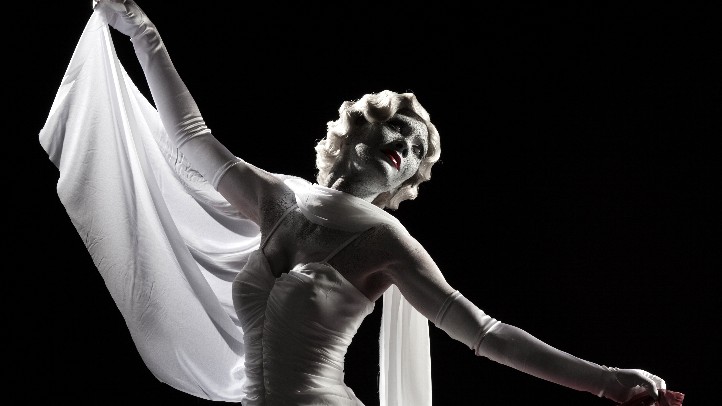 Halloween scares are a billion-dollar business these days, there's no doubt about it. And whether you're sticking a rubber skeleton on the front lawn or staging a multi-night, multi-maze attraction at a well-known landmark, you want to consider if the props and characters you're including serve the setting.
Pirates in a garage? Eh. Pirates at a pool party? Definitely.
This happens more rarely than not; we've all seen that scare house where the zombies and monsters were fairly generic (not that we didn't squeal and run for the exit). But if you have a place that already has legends attached to it -- say, the Queen Mary -- then you want to fashion at least some of your Halloween thrills around those specific tales.
Dark Harbor, the Long Beach ocean-liner's annual spook-a-thon, is once again scaring on select nights through Halloween. And while visitors will definitely get their jumps in from a variety of monsters, we'll pause here to applaud Graceful Gale, The Captain, and the other ghosties who look like they might actually have ties to the ship. Certainly the Captain, who looks a bit green around the gills, but Graceful Gale is straight out of the glamorous '30s.
The characters star in a variety of mazes -- Graceful Gale cameos in Submerged -- so if you want to see the full collection, you'll need to wander through them all. Deadrise and The Cage are two other mazes, if you're feeling brave, but the monikers get more macabre from there.
As always, the Queen Mary has Scare and Stay hotel package for those two chilled to drive home. But you know the ship is famously haunted, right? So can you go from the not-real-but-still-scary maze monsters to the possible real spirits of your room? Questions, questions.
Follow NBCLA for the latest LA news, events and entertainment: iPhone/iPad App | Facebook; | Twitter; | Google+; | Instagram; | RSS; | Text Alerts | Email Alerts
Copyright FREEL - NBC Local Media