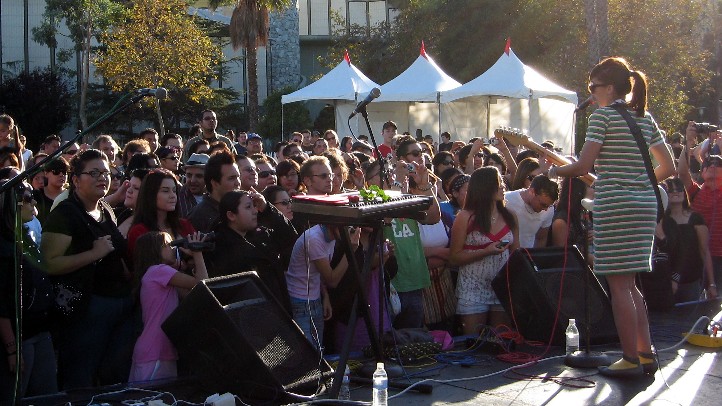 The tar pits have always had a free thing going, it seems.
Thousands of years ago? When all those dire wolves and mammoths and mastodons roamed the area we now call the Miracle Mile? Yeah. They paid no admission to do so. (Yes, we know, the early denizens of Hancock Park paid in other ways -- getting trapped in tar, famously -- but that seems like the topic for a later dissertation. We will post it here if we ever write it.)
And today? The La Brea Tar Pits are still free to visit. (We know that the nearby Page Museum is not, and nor should it be; let's all help fund the boney-beautiful research that goes on within.) So that TarFest, the annual indie-nice music and art show, waives admission each and every year fits the setting. Thank you, TarFest.
And thanks for the great 2011 line-up. Playing the Sunday, Sept. 25 show? Saint Motel, Everest, Obi Best, A House for Lions, Infantree, and Ash Panda will be on the alfresco stage. And near that stage? Art to look at and enjoy. (Do all of the artworks inside LACMA know that a bunch of other artworks'll be just outside for the day? It's like an art-tar-tunes-love-a-thon.)
Hours are noon to six. Meaning you'll spend a perfect autumn afternoon by the mammoth statues, grooving out. Those animals didn't groove out thousands of years ago, did they? Well, something a bit new at the pits, now and then, can't be all that bad.
Copyright FREEL - NBC Local Media