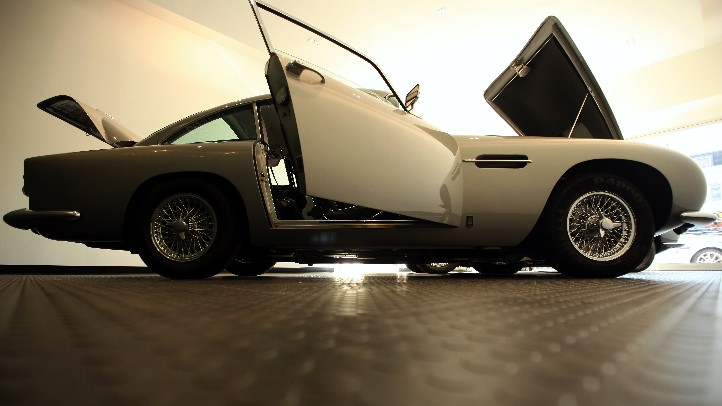 When Agent 007 has to plan a major mission, he has to make sure that several events and circumstances weave seamlessly together for maximum effect.
So you'd almost think that James Bond is behind the sudden burst of Bondian bashes bursting all over the city. There's the run of every James Bond film ever at The Egyptian and The Aero -- they'll be on, nightly, through Sunday, June 24 -- and there's the new LACMA exhibit spotlighting the films' iconic credit sequences.
And next up? A celebration of the Aston Martin. Perhaps you heard that Mr. Bond is rather fond of the sporty and snugly built British icon? Of course you've heard. The car will be the featured vehicle of the 2012 Rodeo Drive Concours D'Elegance.
The Rodeo Drive event is notable for several things, including its round-up of some of the sweetest, shiniest autos around, but here are two major points: It is on Father's Day, year in and year out, and it is always free.
If you like cars or Dad likes cars or you both love James Bond or you both just like spending time together in the sunshine, find your way to the heart of Beverly Hills on Sunday, June 17. We'd skip the whole tuxedo bit, though; weather'll be fine so you'll want to do short sleeves casual.
What? You say Bond wasn't a casual guy? Au contraire. What about all those beach and ocean scenes? Except for the one where he unzipped his scuba suit and there was a tux underneath? Mr. Bond liked to loosen up too, now and then.
The car show's hours are 10 a.m. to 4 p.m.
Follow NBCLA for the latest LA news, events and entertainment: iPhone/iPad App | Facebook; | Twitter; | Google+; | Instagram; | RSS; | Text Alerts | Email Alerts
Copyright FREEL - NBC Local Media