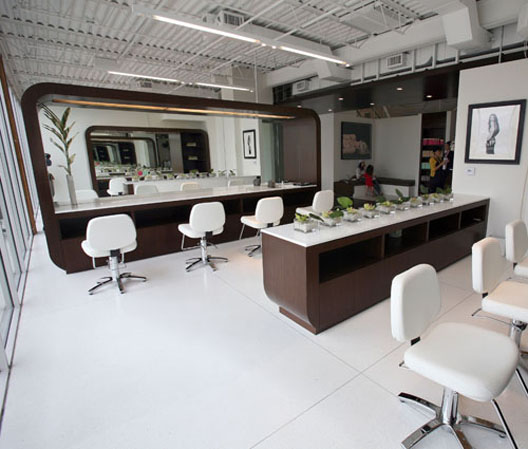 Photo via LAT
Famed stylist Sally Hershberger, who built up the John Frieda salon on Melrose place, recently opened up her own salon on the third floor of a building owned by interior designer Kelly Wearstler on La Cienega. Though Hershberger split from Frieda in 2006, the LAT reports a mass exodus of hair stylists and other employees to Hershberger's salon—"10 hairdressers (four colorists and six cutters), a manager and a receptionist."
The fact that stylists had never met Frieda (some after four years working for him) was among numerous complaints from former Frieda employees. Stylists and clients alike are also not fans of the stark New York-ified makeover to the John Frieda salon once Serge Normant, who helms the NYC Frieda salons, took over. One client compared it to a "coke den."
Though the various parties involved don't seem terribly bitter, there are clearly bad feelings, which has filmed over the Frieda salon further tarnishing its luster, while the Hershberger salon is the new, sexy salon, literally around the corner, where haircuts run a cool $150-$800.
· A battle of the Hollywood salons is shaping up [LAT]For more stories from Racked LA, go to la.racked.com.
Copyright RACKL