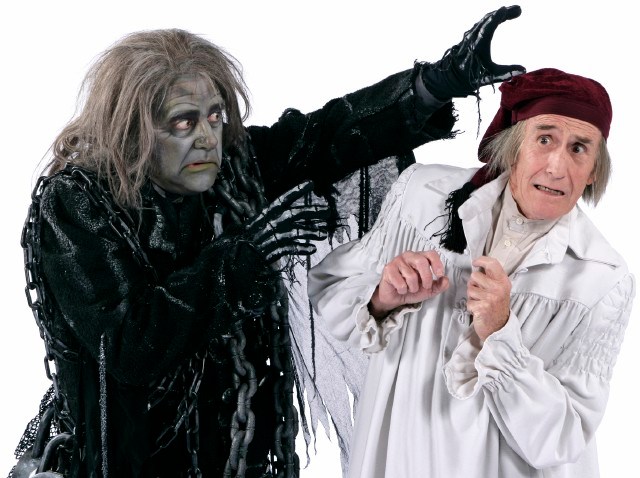 Experienced Scrooge: Hal Landon Jr. has famously played Ebenezer on the South Coast stage for three decades; we're guessing the twinkly-eyed, top-hatted actor knows how to "humbug" with flair and accuracy. The spirits roam at South Coast Rep in Costa Mesa through December 26th.
Gay Apparel: A Christmas Carol: Scrooge as a hot-hot-hot fashion designer? An outlandish celebrity due for his comeuppance? We're already guffawing. Oh, and Marley was a partner in the fashion line. Okay, really guffawing. Lyric Hyperion in Silver Lake is the theater. Final date's December 20th.
Thames River(side Boulevard): The Knightsbridge Theatre has a fresh take on the Dickens play. Define fresh, you say? Five actors will play ALL the roles. Wow. That's 33 different characters. We probably have to see that. Will Bob Cratchit be doing double-duty as the Ghost of Christmas Future? That ghost always has the best outfit. The hood. Drama.
Upright Citizens Brigade has a Scrooge-themed telethon, New Beverly is running the Muppets' take on the classic, and companies across our sunny shores are doing their own stagings. Check out every "Carol"-close offering.
Copyright FREEL - NBC Local Media