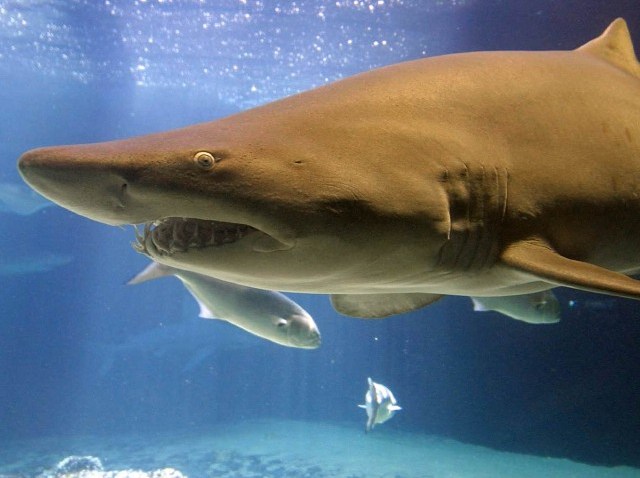 If only sharks everywhere had access to television sets their self-esteem might shoot through the roof -- or, er, the surface of the water -- every early August.
That's the time of Shark Week, of course, one of the most popular stretches of the Discovery Channel year. It's now part of popular culture; the term "Shark Week" pops up in reference to other properties and in comedy routines when the subject at hand as nothing to do with creatures of the deep.
And it gives the beautiful, big-teethed denizens of the deep something of a public relations boost. That means a lot of people want to get out and see sharks in person, and maybe even touch one (nope, not a Great White).
You can, at several spots around California. There's the Monterey Bay Aquarium, The Birch Aquarium at Scripps, and, closer to home, the Aquarium of the Pacific in Long Beach.
We should mention that the free Shark Lagoon Nights at the Long Beach institution won't start back up again for a few more weeks -- the next one is slated for Friday, Sept. 7 -- there are Discounted Late Nights going for much of the rest of summer. Admission is $14.95 for adults after 5 p.m., and, yep, right on the web site are the words "touch a shark."
If you've been engrossed in Shark Week, you want to touch a shark, we'll assume.
Oh, and we mentioned Great Whites before. They're not common to aquariums, but the Monterey Bay Aquarium has taken in a half dozen young Great Whites for short periods of time. Watch the site if you want to see when the next one arrives.
Follow NBCLA for the latest LA news, events and entertainment: iPhone/iPad App | Facebook; | Twitter; | Google+; | Instagram; | RSS; | Text Alerts | Email Alerts
Copyright FREEL - NBC Local Media