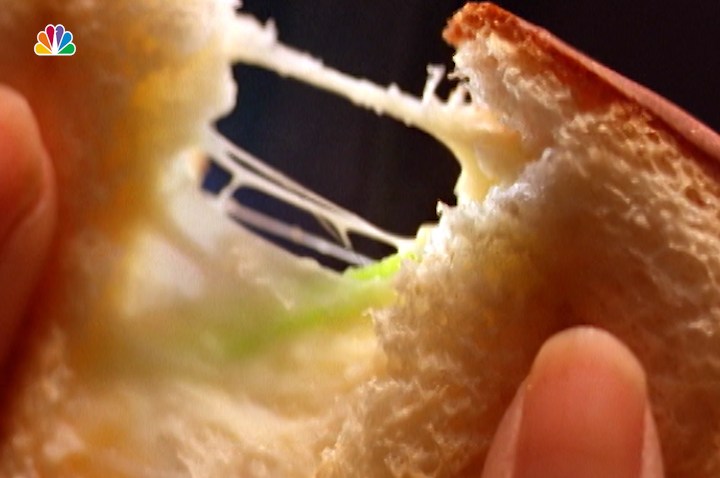 How did you kick off Thursday, April 12, which is also known as Grilled Cheese Day in certain delicious corners?
Did you pour yourself a bowl of tiny grilled cheeses and douse 'em in milk? Will you be having a grilled cheese with a side of grilled cheese for lunch? Will you center your evening around films that feature the grilled cheese? (We have a theory that any movie featuring grilled cheese probably has a babysitter for a character; isn't that always what babysitters cook in every movie ever made?)
But even if you aren't honoring that meltiest, bread-butteriest of sandwiches on its honorary day, there's a way you can still raise a crust in the comfort food's honor: The Grilled Cheese Invitational is ahead on Saturday, April 28.
Like the humble grilled cheese itself, there isn't too much fluff surrounding the Rose Bowl eat-off. Basically a bunch of spatula-wielding cooks show up and take the three basics of the sandwich -- don't make us tell you what they are, because we all arrive on this planet knowing how to throw together a grilled cheese -- and then they throw in a mess of stuff like jam and figs and onions.
There are four categories, including a sweet category, so that's fun.
A ticket is $15. The stern and necessary "This event Will Sell Out" is front-and-centered on the Invitational's site. Heed that warning. Don't Brie late or you'll be sad. (Oh stop. The weekend's nearly here so we're going to toss around "Brie" where we like.)
Happy Grilled Cheese Day and Invitational! Now, where's that can of tomato soup we just bought?
Follow NBCLA for the latest LA news, events and entertainment: iPhone/iPad App | Facebook; | Twitter; | Google+; | Instagram; | RSS; | Text Alerts | Email Alerts
Copyright FREEL - NBC Local Media