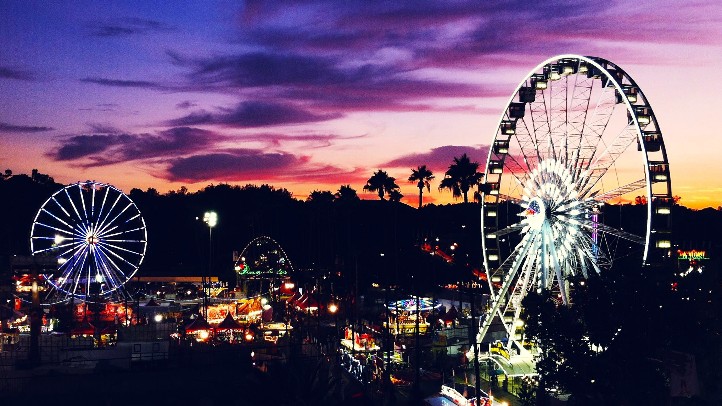 You say you've been waiting for a cooler weekend in which to enjoy the Los Angeles County Fair? Strangely enough, that weekend didn't come; it felt like all of our Saturdays and Sundays, starting with Labor Day Weekend, have been on the toastier end of the thermometer.
And one can only wait so long with an event that's just a month long; the largest county fair in the country will be folding up the tents and packing the animal pens after Sunday, Sept. 30, which means you'll just have to sunblock-up and make for the revelries over the summer-like weekend.
What's ahead? The Grandstand entertainment'll do it up, big, all the way through to the end: A demolition derby rolls/smashes/reverses on Thursday, Sept. 27, followed by the Charlie Daniels Band and .38 Special on Friday, Sept. 28. Moto-X flips on Saturday, Sept. 29 and Earth, Wind, & Fire rounds out the fair on Sunday, Sept. 30 (we've said it before: Nothing beats hearing "September" in the month of September; just one of those little music fan pleasures).
This will also be your last weekend to try the 17-inch Big Rib, deep-fried cereal, or the shrimp and rice dish served in a pineapple, which is new this year at the fair.
Us? We'd probably visit the beer and wine area over by the flower pavilion; award winners are on the pour. Cool, cool, cool. Or for a less spirited cooldown, frozen lemonade.
Oh fair: You were a hot one this year, but your evenings are, hands down, the best. The sunset photo above says it all; is there anything better than seeing the lights of the midway blink on, at least once? Nope. It's a one-of-a-kind sight.
Follow NBCLA for the latest LA news, events and entertainment: iPhone/iPad App | Facebook; | Twitter; | Google+; | Instagram; | RSS; | Text Alerts | Email Alerts
Copyright FREEL - NBC Local Media