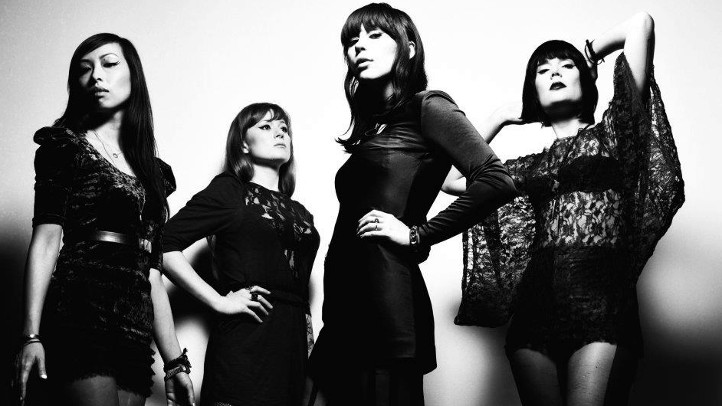 Should we all stop collectively meowing about the 405?
We think yes. Granted -- granted -- there are times when the meowing is warranted. (coughFridayat6:05pmcough). But it helps tons of people get around. It helps us get to the airport. We use it when we feel 5 fatigue (you know what we mean). And it happens to be in the name of one of the best free things of the summer.
Yep, we're wending our way toward Saturdays Off the 405, the Getty Center's annual evening concert series. It's preparing to kick off again on Saturday, May 19 with the Dum Dum Girls, and if you're not currently bouffanting a ravishing rat's nest into your hair in anticipation, best start on that now; the band's vibe is that awesomely vintage.
But it isn't simply about the freeway or the free. Talks'll go on inside the museum, so you can both rock out and take something away about romantic painting in the 16th century.
As always, the cafe'll be open and selling sandwichery, if you hate to think about romantic painting on a growly stomach. Oh yeah, and the Gettytinis are back at the cash bar. The only issue with ordering a tasty Gettytini is you want to say the word "Gettytini" at least 28 more times. Be warned.
Let's note here that parking is ten bucks after 5 p.m.
And, 405, before we go, we must say that we weren't quite done making amends. We like to look at you from the Getty Center. You're sort of a vigorous symbol of citydom, all done up in headlights and tires and lanes. Is the 405 art on a grand scale? Of course.
Saturdays Off the 405 happens once a month through Oct. 20, 2012.
Follow NBCLA for the latest LA news, events and entertainment: iPhone/iPad App | Facebook; | Twitter; | Google+; | Instagram; | RSS; | Text Alerts | Email Alerts
Copyright FREEL - NBC Local Media