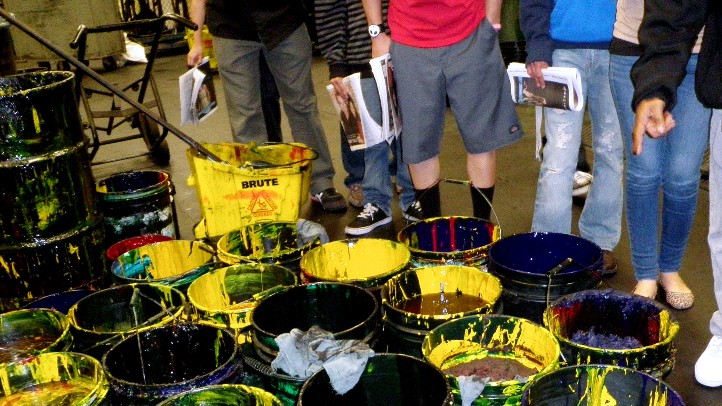 Take a guess: At what printing plant were the letters you're reading right now printed?
Okay, that's a bit of a trick question, of course. (Although "Internet Printing Plant Headquarters" would be a viable answer, we think.) There is no printing HQ for onlinedom, but there is for the Los Angeles Times. It's the historic Olympic Printing Plant, a pile of a building that's downright fabled in the annals of local newspapery.
You know this plant and you likely know that it is, in fact, the largest printing plant in the U.S. And getting inside it? Doesn't happen every day, at least for curious lookie-loos. So a chance to hop on a rare tour -- make that a rare, free tour -- really is too good to pass up, especially if you like walking past big buckets of ink and rolls of paper that weigh in excess of a thousand pounds. And those magnificent, massive, chugga-chugga presses.
Oh, and look at this: A rare, free tour is happening on Thursday, Feb. 9 at 7:30 p.m. If you're wondering "hey, is that happening in conjunction with Downtown Art Walk?" wonder no longer; it is. There are a few to-knows, like about wearing soft-soled shoes, so eye this page.
You'll also want to nab that gratis ticket in advance. It'll fill up for sure, and only 50 people'll be on it.
We visited a newspaper printing plant years ago and saw the pressmen make little boxy hats out of still-hot newspaper pages. To this day we always regret not asking them how they folded the old-school chapeaux. Even if you don't find out on your tour, bet you'll come away with a dozen interesting anecdotes and plant facts.
The fragrance, too, of a printing plant. It's singular. And the temperature of the air. And the lingo. And, and, and...
Follow NBCLA for the latest LA news, events and entertainment: Twitter: @NBCLA // Facebook: NBCLA
Copyright FREEL - NBC Local Media