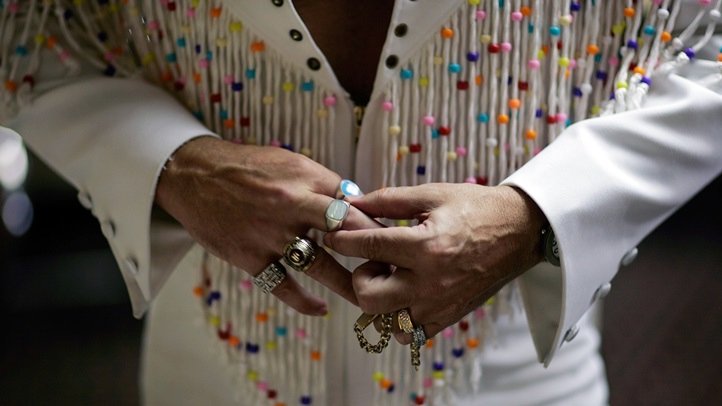 EVERYONE'S ELVIS: We've probably all had a similar dream. We show up, somewhere, say our local grocery store, and we walk inside, but wait: Everyone but everyone, from the shoppers to the employees stocking the shelves, is actually Elvis Presley. Jumpsuit-wearing Elvis Presley, from the early '70s. What? No? That's just our reoccurring dream? Too bad. It's a pretty good one, we think. And were extra excited because that dream could become something of a reality on Thursday, Oct. 31 when the Elvis Presley Honeymoon Hideaway in Palm Springs throws a Halloween Bash.
YEP... you are indeed invited to arrive dressed as Elvis. In fact, we'd be disappointed if people showed up and at least didn't have something Elvis-y about their costumes. A pair of over-sized sunglasses? Pinky rings? A pompadour? Find a way to work that in. But we recommend you go "Full King" if you want to compete for the Best Elvis Costume prize. Please, if you win that you'll never need to win anything else ever again.
THERE SHALL BE TOURS... Walking around the mid-century abode is a pleasure, and Halloween will not be an exception. There are, in fact, a number of tours planned for Halloween. Also, the house will be decorated for the holiday and there shall be candy (meaning kids are welcome, and for half the admission price, too). Seriously, how cool to say you went trick-or-treating at The King's hangout. That's got major cred.
And one last bonus? The Hideaway does daytime tours, not night, but Halloween evening will be an exception. Roam a Presley pad by night, dressed as Elvis, and eat candy? This is might be the reoccurring dream we need to start having, stat.
Copyright FREEL - NBC Local Media