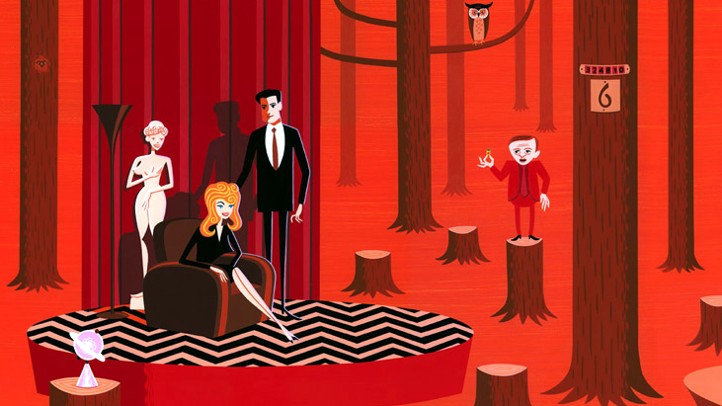 Question: Does every television show merit its own gallery exhibit?
You can, probably off the top of your head, think of one or two that does -- a lot of people might vote "The Wire" or "Downton Abbey" or "Dark Shadows" -- but you can think of loads more that definitely do not. We'll leave our own suggestions to the wind on that one. Actually, maybe bad shows should find second life in art galleries. Irony, et cetera.
But "Twin Peaks"? The deliriously delivered dream vision from David Lynch and Mark Frost continues to generate fan gatherings and donut-time get-togethers decades after its demise. You even might recall, if you're a fan, that an art show inspired by the series popped up at Clifton's downtown for a couple of days last year. (Perfect woodsy setting, by the by.)
Now many of those artists are back, plus new artists, to fete "Twin Peaks: Fire Walk with Me," the dark, fever-drenched film that followed the series. The expanded show bows at the Copro Gallery in Santa Monica on Saturday, April 21. The show is set to have a much longer life than the Clifton's outing; it'll be up at the Copro through May 12.
The opening night party, which happens on April 21, will be a real treat for Peaksians. Unreleased tunes from the film will play, and the DJ? Dean Hurley, who worked with David Lynch on one of the director's own albums. Mr. Lynch, we'll add, was approached about this newest gallery show and gave it his blessing.
The Copro, we will add, is located in an old train station. Short of the Double R Diner, we can't think of a building that's a better homage to the vintage vibe of the early '90s phenom and film.
Look for a lot of flannel in the crowd, a cradled log or two, and someone wearing a plaid skirt and saddle shoes.
Follow NBCLA for the latest LA news, events and entertainment: iPhone/iPad App | Facebook; | Twitter; | Google+; | Instagram; | RSS; | Text Alerts | Email Alerts
Copyright FREEL - NBC Local Media